SINGAPORE - July 10, 2008 - Creative Technology Ltd., Scorpio East Pictures Pte Ltd, MediaCorp Raintree Pictures Pte Ltd and Golden Village Pictures Pte Ltd today announced a joint promotion to feature the limited edition Red Cliff Creative ZEN® X-Fi®. Launched today, the Creative ZEN X-Fi is the first Creative digital media player enhanced with X-Fi technology, an award-winning audio technology that is perfect for enjoying music and movies. Limited edition Red Cliff Creative ZEN X-Fi players with exclusive Red Cliff packaging will carry star-studded cast photos and the official movie trailer of Red Cliff, a Chinese epic movie based on the events culminating in the battle of Red Cliff during the Three Kingdoms period in Ancient China. Directed by the critically-acclaimed John Woo and starring renowned international stars Tony Leung Chiu Wai and Takeshi Kaneshiro, Red Cliff premieres today at Golden Village cinemas island-wide.
Joseph Liow, Vice President, Personal Digital Entertainment Products of Creative Technology Ltd. and General Manager of Creative Labs Asia said: "We are very excited to work with Scorpio East, MediaCorp Raintree and Golden Village on this exclusive promotion. ZEN X-Fi is great for music and movies - X-Fi Crystalizer intelligently restores all the details lost instantly to amazing clarity while X-Fi Expand virtually expands sound to an audio experience with a breathtakingly realistic depth of field, bringing out the best sound effects in movies, especially in an epic movie like Red Cliff."
Mr Lim Teck, Chief Operating Officer of Scorpio East Pictures Pte Ltd added: "This is an unique opportunity to work with Creative. We are very pleased to have the limited edition Creative ZEN X-Fi carry the Red Cliff packaging, cast photos and movie trailer. We are sure that fans of Red Cliff will be thrilled with the exclusive digital media player and we look forward to more collaboration opportunities in the near future."
Pricing and Availability
The limited edition Red Cliff Creative ZEN X-Fi is available in limited quantities from 10 July 2008 at The CREATIVE Stores at Marina Square and Plaza Singapura, the online store at sg.store.creative.com, Best Denki, Challenger and Harvey Norman in Singapore at the suggested retail prices of S$229.00 for the 8GB model and S$329.00 for the 16GB model. With every purchase of the limited edition Red Cliff Creative ZEN X-Fi, a free Creative ZEN X-Fi Armband worth S$29.90 will be given. In addition, limited quantities of Red Cliff movie tickets courtesy of Golden Village will be given for purchases of the limited edition Red Cliff Creative ZEN X-Fi made at Best Denki and Challenger in Vivo City.
For more information about the Creative ZEN X-Fi, please visit www.creative.com/zenxfi.
For more information about the Red Cliff showtimes at Golden Village cinemas, please visit www.gv.com.sg.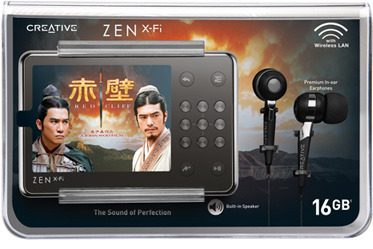 Limited Edition Red Cliff Creative ZEN X-Fi Digital Media Player with Red Cliff Packaging
About Creative
Creative is a worldwide leader in digital entertainment products. Famous for its Sound Blaster® sound cards and for launching the multimedia revolution, Creative is now driving digital entertainment on the PC platform with products like its highly acclaimed ZEN® MP3 and portable media players. Creative's innovative hardware, proprietary technology, applications and services leverage the Internet, enabling consumers to experience high-quality digital entertainment—anytime, anywhere.
About Scorpio East
With our business origins back in 1994, Scorpio East has established itself as a leader in delivering quality video entertainment products and production of films in Singapore.
With our extensive distribution network, our drama serials and movie DVD/VCD products are distributed to more than 160 retail outlets in Singapore. Our products cover a diverse range of genres and languages and are acquired from major licensors for U.S., Hong Kong, Taiwan, China, Singapore and others.
Since 2005, Scorpio East has been actively involved in content-production by co-investing in films, both locally and regionally. This enables us to not merely distribute entertainment products but also to participate in the process of creating and sharing quality entertainment. Our listing on the Singapore Exchange in 2006 was another milestone as the higher profile allows us to work with bigger players across the entertainment industry value chain.
About MediaCorp Raintree
The pioneer in Singapore movie industry, MediaCorp Raintree Pictures was set up in August 1998. Working with local and regional talents, it has produced over 20 movies of diverse genres, including the award-winning I Not Stupid, The Eye, Infernal Affairs II, Turn Left Turn Right, Homerun (which won the first Golden Horse Award for Singapore) and The Best Bet. Its latest productions include the internationally acclaimed horror film The Maid, I Not Stupid Too, One Last Dance (which competed in the 2006 Sundance Film Festival). MediaCorp Raintree Pictures is focused on producing an international hit that will break into key markets all around the world.
MediaCorp Raintree Pictures is part of MediaCorp. As the largest broadcaster in Singapore and one of the region's most renowned broadcasters, MediaCorp offers a complete range of media businesses: TV, Radio, Entertainment Productions, Movie Productions, Newspapers, Magazines, Electronic Media and other broadcasting services. MediaCorp's vision is to become one of Asia's top media companies by delivering valued content to the world.
About Golden Village
Golden Village Multiplex Pte Ltd is Singapore's leading cinema exhibitor with 9 multiplexes housing 73 screens: Yishun, Bishan Junction 8, Tiong Bahru Plaza, Jurong Point, Tampines Mall, Marina Square, Great World City, Plaza Singapura, and its latest, biggest 15-plex flagship VivoCity. Golden Village was established to develop and operate modern, luxurious multiplex cinemas and is the first local cinema to personalize the movie-going experience through its Golden Village Movie Club program. Golden Village was the prime mover in the introduction of multiplex to Asia. The company's first imprint in Singapore was made on 28 May 1992 with the successful opening of the Yishun 10 cinema complex. Today, the company and circuit has a reputation of offering the widest choice of movies, unparalleled comfort, state-of-the-art design, prime locations and convenience.
Film distribution arm Golden Village Pictures Pte Ltd releases an average of 30 to 40 titles per year, ranging from blockbusters such as the MATRIX trilogy, CONSTANTINE and HAPPY FEET to international arthouse hits like THE MOTORCYCLE DIARIES and SUPER SIZE ME. Golden Village constantly aims to raise the bar in everything that it does so as to offer patrons a memorable experience at the cinemas.
###
This announcement relates to products launched in the Asia Pacific. Availability is subject to change without notice and may differ elsewhere in the world according to local factors and requirements. X-Fi, Sound Blaster and ZEN are trademarks or registered trademarks of Creative Technology Ltd in the United States and/or other countries. All other trademarks are the property of their respective owners.