Creative Technology Ltd., a worldwide leader in digital entertainment products, today announced the Creative Sound Blaster® Play!. This compact, entry-level USB audio solution is the easiest way for users to enjoy quality music and surround sound over their headphones or speakers. They can also experience fantastic 3D audio and Creative EAX Advanced HD effects in games. The Creative Sound Blaster Play! provides the easiest, portable plug and play upgrade from basic, built-in audio to the award-winning Sound Blaster audio as experienced by millions of users all over the world. Users can now experience better quality music and movies wherever they go.
Voice over Internet Protocol (VoIP) calls can now be experienced with phone-like quality. The Creative Sound Blaster Play! works perfectly with any Internet Messaging Service, enabling users to hear their friends' voices in crisp and clear quality when chatting over the internet.
The Creative Sound Blaster Play! comes with CMSS (Creative Multimedia Surround Sound) function that upmixes any stereo audio content to surround audio, immersing users in a virtual concert with their favourite music files. The bundled Creative Mediasource software gives users powerful yet intuitive control and organisation of their digital music collection.
The Creative ALchemy software which supports both host-based Creative EAX Advanced HD 4.0 and OpenAL is also bundled with the Creative Sound Blaster Play! It restores surround sound for Windows Vista users and delivers the same great gaming experience. There are over 400 existing games which use Creative EAX Advanced HD sound effects to provide better gaming sound. Users can experience realistic sound effects and 3D surround that make them feel as though they are in the game.
Key Features of the Creative Sound Blaster Play! include:
PC USB bus-powered
Stereo Headphone Out and Mic In for convenient connection of headphones, speakers or microphones
Host-based Creative EAX Advanced HD 4.0 for games allows simultaneous recreation of multiple environments
OpenAL support offers a cross-platform 3D Audio API that unlocks the full potential of Sound Blaster cards
Creative ALchemy software that restores surround sound for legacy game titles running in Windows Vista
Pricing and Availability
The Creative Sound Blaster Play! will be available at The CREATIVE Stores at Marina Square, Plaza Singapura and International Business Park, the online store at sg.store.creative.com and authorised dealers in Singapore in mid August 2008 for S$29.00. For more information about the Creative Sound Blaster Play!, please visit www.asia.creative.com.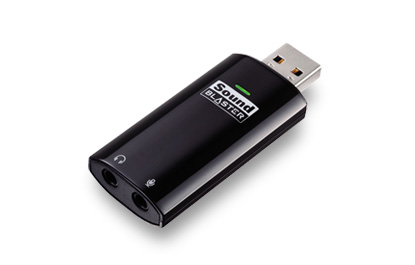 Creative Sound Blaster Play!
About Creative
Creative is a worldwide leader in digital entertainment products. Famous for its Sound Blaster® sound cards and for launching the multimedia revolution, Creative is now driving digital entertainment on the PC platform with products like its highly acclaimed ZEN® MP3 and portable media players. Creative's innovative hardware, proprietary technology, applications and services leverage the Internet, enabling consumers to experience high-quality digital entertainment — anytime, anywhere.
###
This announcement relates to products launched in Asia Pacific. The product names, prices and availability are subject to change without notice and may differ elsewhere in the world according to local factors and requirements. Sound Blaster and ZEN are trademarks or registered trademarks of Creative Technology Ltd in the United States and other countries. All other trademarks are the property of their respective owners.