SINGAPORE - 22 August 2008 - Creative Technology Ltd., a worldwide leader in digital entertainment products, today introduced the Creative Sound Blaster® X-Fi™ Go!. Approved by Championship Gaming Series™ (CGS) and tested by world-renowned gamer Johnathan "Fatal1ty" Wendel, the USB powered Creative Sound Blaster X-Fi Go! uses the acclaimed X-Fi Xtreme Fidelity™ audio technology to let users experience ultra-realistic gaming with surround sound over headphones. It delivers compelling audio performance for the enjoyment of music, movies and games on the move.
Sporting a sleek and distinctive black finish, the Creative Sound Blaster X-Fi Go! is incredibly lightweight (less than 20g) and compact. The 1GB of built-in flash memory stores the essential software for instant simple installation on any notebook or desktop PC without the need of a CD. The Creative Sound Blaster X-Fi Go! incorporates Read/Write Protection which prevents important files from being accidentally deleted, so users can save their custom gaming profiles, plug-ins, add-ons or any other essential files. Featuring high quality I/O and Voice Morphing technology (Voice FX), it is designed for maximum convenience and portability, attaching easily to any keyring or lanyard.
The Creative Sound Blaster X-Fi Go! harnesses the power and performance of the award-winning X-Fi audio technology, enabling users to experience ultra-realistic sound effects and 3D surround that totally immerse them in the game. X-Fi technology features both X-Fi Crystalizer and X-Fi CMSS-3D. X-Fi Crystalizer intelligently revitalises and restores details lost during compression of MP3 music or movie files so users hear everything in crystal clarity. X-Fi CMSS-3D expands stereo MP3s, digital movies and games into virtual surround over speakers or headphones. The Creative Sound Blaster X-Fi Go! also supports Creative EAX® Advanced HD™ 4.0 which provides a better and more realistic gaming experience for users. There are currently over 400 game titles that use Creative EAX technology to improve game sound effects.
The Creative Sound Blaster X-Fi Go! comes bundled with Creative ALchemy software which restores surround sound in Windows Vista so that users can enjoy the same great gaming experience in Windows XP. The latest VoiceFX technology provides additional fun for users to select over 18 different voice effects to suit their online avatars for online games or amuse friends during voice chats. Other bonus software includes Creative Karaoke Player, Creative Mediasource 5/Organizer and Creative WaveStudio (available for download via Creative Software AutoUpdate).
Key Features of the Creative Sound Blaster X-Fi Go! include:
Plug into any USB port and play
Go green! Creative Sound Blaster X-Fi Go! conveniently stores its installation software and other essential files. No need to carry an installation CD or additional USB storage device around
Fits onto keyring/lanyard for maximum portability
Built-in award-winning X-Fi technology comes with incredible 360 degree X-Fi Headphone Surround for an enhanced audio experience with music, movies and games
EAX Advanced HD 4.0 and Open AL for maximum audio realism in games
Built-in VoiceFX technology which allow users to morph their voice into another persona while chatting with friends over Internet and in online games
Creative ALchemy software restores surround sound for legacy games in Windows Vista
Bonus software available for free download for Creative Sound Blaster X-Fi Go! users:

Creative Karaoke Player with LRC format support, allows users to sing along with their favourite songs using Pitch Shifter function and Reverb effect
Creative WaveStudio - provide convenient and easy audio editing, applying special effects and audio clean-up function for their recorded music files, lectures and podcasts
Perfect Gaming Companion Product
Pair the Creative Fatal1ty Gaming Headset with the Creative Sound Blaster X-Fi Go! for the ultimate gaming experience. This powerful combination provides users with a competition grade
X-Fi Sound System for stunning audio quality and immersive and ultra-realistic sound during PC gaming.
Pricing and Availability
The Creative Sound Blaster X-Fi Go! is available in Singapore from end August 2008 at a suggested retail price of S$79.00 at The CREATIVE Stores at Marina Square, Plaza Singapura and International Business Park, the online store at sg.store.creative.com and authorised dealers.
For more information about the Creative Sound Blaster X-Fi Go!, please visit www.asia.creative.com and www.soundblaster.com.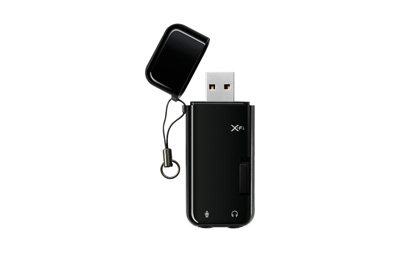 Creative Sound Blaster X-Fi Go!
About Creative
Creative is a worldwide leader in digital entertainment products for PC users. Famous for its Sound Blaster® sound cards and for launching the multimedia revolution, Creative is now driving digital entertainment on the PC platform with products like its highly acclaimed ZEN® MP3 players. Creative's innovative hardware, proprietary technology, applications and services leverage the Internet, enabling consumers to experience high-quality digital entertainment— anytime, anywhere.
About Johnathan "Fatal1ty" Wendel
Johnathan "Fatal1ty" Wendel became the world's first full time professional video gamer in 1999 and since then has dominated competitions all over the world, competing on 6 continents throughout his 8-year professional career and winning an unprecedented 12 world titles in 5 different games. His dedication to the concept of competitive video gaming led him to create a range of gaming gear that carries the Fatal1ty Brand.
In honour of his contributions, Johnathan was awarded the first ever Lifetime Achievement Award in the four-year history of the eSports-Award for "showing exceptional sportsmanship, taking part in shaping eSports into what it is today and for being the prime representative of this young sport. He has become the figurehead for eSports worldwide."
Johnathan has joined forces with Championship Gaming Series (CGS) as exclusive on-air analyst and global spokesperson, maintaining his ongoing efforts to establish competitive video gaming as a 21st century sport. Watch Johnathan and the CGS on DIRECTV in North America and Latin America, BSkyB in the UK, Eurosport in Europe, ESPN-STAR and STAR in Asia and STAR in Australia.
# # #
This announcement relates to products launched in Asia Pacific. The product names, prices and availability are subject to change without notice and may differ elsewhere in the world according to local factors and requirements. X-Fi, Xtreme Fidelity, X-Fi Crystalizer, X-Fi CMSS-3D, EAX, Sound Blaster and ZEN are trademarks or registered trademarks of Creative Technology Ltd in the United States and other countries. All other trademarks are the property of their respective owners.