Creative Technology Ltd., a worldwide leader in digital entertainment products, today announced the Creative N400 USB Powered Notebook Speaker System. These impressive lightweight USB powered speakers offer users the best of both worlds - High-quality Audio and Portability. It features premium sound quality while maintaining a stylish, space-saving industrial design. The incredibly powerful Creative Xtreme Fidelity™ (X-Fi™) technology software, which comes bundled with the Creative N400, enhances and unleashes its true potential to deliver full-range sound for all audio playback.
The Creative N400's compelling design is made possible by its small footprint and compact speaker enclosure. It is capable of delivering an overall ambience that is both spacious and lush. Audio reproduced from the Creative N400 is warmer, fuller and richer in tones. Users will appreciate this remarkable speaker system that sounds larger than its actual compact size.
The Creative N400 is a compact 2.0 Speaker System that is powered and provides digital sound through a single USB cable connected to users' computer. Each satellite speaker is equipped with a dual 2-inch full range active driver for high efficiency and delivers smooth detailed playback with outstanding bass. The Creative N400 is designed for convenience, with all multimedia controls easily accessible on the top of the right speaker. Its simple setup and installation, fuss free connectivity makes it a perfect companion for notebooks. Also included is a high quality protective carry case which improves users' traveling convenience.
The Creative N400 comes with the award-winning Creative X-Fi technology software so users can enjoy an exceptional audio experience for music and movies. Creative X-Fi Crystallizer restores the details and vibrance to compressed music and movies. All the highs and lows are intelligently enhanced so users hear everything in crystal clarity. Creative X-Fi CMSS-3D takes stereo signals in MP3s and digital movies and creates an immersive surround sound over stereo speakers. Voices are centred in front of users and ambient sounds are moved all around them.
The Creative ALchemy software which supports both host-based Creative EAX 4.0 Advanced HD and OpenAL is also bundled for users. The Creative ALchemy restores Creative EAX® Advanced HD™ 4.0 surround sound for Windows Vista users and delivers the same great gaming experience under the Windows XP platform. There are currently over 400 games that use Creative EAX Advanced HD 4.0 to provide clear and robust gaming sound effects.
Key Features of the Creative N400 USB Powered Notebook Speaker System include:

USB bus-powered, plug and play
Dual high performance full range active drivers for amazing sound clarity with outstanding bass
X-Fi technology software to enhance and make users' music sound way better
Easily accessible built-in multimedia controls
Portable and lightweight design for travel convenience
Magnetically shielded to prevent interference to LCD TVs and monitors
Pricing and Availability
The Creative N400 USB Powered Notebook Speaker System will be available at The CREATIVE Stores at Marina Square, Plaza Singapura and International Business Park, the online store at sg.store.creative.com and authorised dealers in Singapore in mid September 2008 for S$119.00.
For more information about the Creative N400 USB Powered Notebook Speaker System, please visit
www.asia.creative.com
.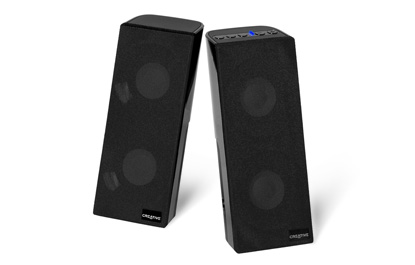 Creative N400 USB Powered
Notebook Speaker System
About Creative
Creative is a worldwide leader in digital entertainment products. Famous for its Sound Blaster® sound cards and for launching the multimedia revolution, Creative is now driving digital entertainment on the PC platform with products like its highly acclaimed ZEN® MP3 and portable media players. Creative's innovative hardware, proprietary technology, applications and services leverage the Internet, enabling consumers to experience high-quality digital entertainment — anytime, anywhere.
###
This announcement relates to products launched in Asia Pacific. The product names, prices and availability are subject to change without notice and may differ elsewhere in the world according to local factors and requirements. X-Fi, Xtreme Fidelity, X-Fi Crystalizer, X-Fi CMSS-3D, EAX, Sound Blaster and ZEN are trademarks or registered trademarks of Creative Technology Ltd in the United States and other countries. All other trademarks are the property of their respective owners.