SINGAPORE - 29 August 2008 - Creative Technology Ltd., a worldwide leader in digital entertainment products, today announced the Creative GigaWorks® T3 speaker system. Designed to deliver the ultimate music listening experience, the Creative GigaWorks T3 combines innovative design, the best audio components and state-of-the-art technologies to levate users' audio listening experience to an entirely new level of excellence.
The two satellite speakers deliver detailed sound, thanks to the full-range premium drivers which combine rich mid-range tones with clear highs. The audio from the satellite speakers merges naturally with the bass from the Creative SLAM™ subwoofer design (Symmetrically Loaded Acoustic Module) which uses three drivers to produce powerful, deep, rich bass with responsive dynamics. The speaker system has been fine-tuned to ensure that users enjoy the most natural and balanced music experience.
The Creative GigaWorks T3 features Low Standby Power technology, which reduces power consumption in standby mode. The simple rear panel features the main Line-In input for connectivity to a soundcard or PC, high-grade connectors to satellite speakers and a bass compensation adjust knob. For total convenience, the speaker system also comes with a wired remote which includes a low friction precision volume dial that doubles as a power/standby switch. The Aux-In on the wired remote allows the speaker system to be used with portable music players, and the headphone connector enables private listening with headphones.
"This new speaker system is a brilliant blend of size and performance," said Joseph Liow, General Manager of Creative Labs Asia. "The use of world-class components in the satellites ensures maximum clarity, fidelity and accuracy in a compact footprint, while the Creative SLAM design in the subwoofer, with triple 6.5-inch drivers, combines precision and accuracy with deep bass."
"We are particularly proud of the fact that we have also been able to enhance the energy efficiency of the Creative GigaWorks T3 with our patent-pending Low Standby Power technology," Joseph Liow added. "When in standby mode, the speaker system reduces power use to a level that's below the current standards for energy efficiency set by the major environmental agencies."
Key Features of the Creative GigaWorks T3 include:

Premium 2.1 speaker system with class-leading audio precision and design
Compact and stylish satellite speakers with audiophile-quality drivers for a full mid-range and clear highs
Compact subwoofer with high-output Creative SLAM design using three drivers to deliver deep, refined bass
Eco-friendly Low Standby Power technology for minimal power consumption in standby mode
Simple rear panel with Line-In input and bass compensation adjust knob
Convenient wired remote with volume control, Aux-In and Headphone Out
Pricing and Availability
The Creative GigaWorks T3 will be available at a suggested retail price of S$299.00 at The CREATIVE Stores at Marina Square, Plaza Singapura and International Business Park, the online store at sg.store.creative.com and authorised dealers in Singapore from end October 2008 onwards.
For more information about the Creative GigaWorks T3, please visit www.asia.creative.com.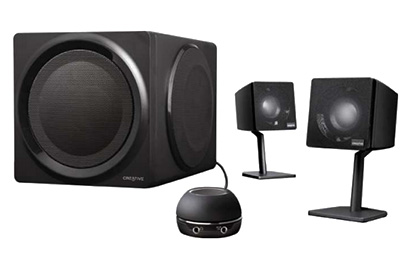 Creative GigaWorks T3 Speaker System
About Creative
Creative is a worldwide leader in digital entertainment products for PC users. Famous for its Sound Blaster® sound cards and for launching the multimedia revolution, Creative is now driving digital entertainment on the PC platform with products like its highly acclaimed ZEN® MP3 players. Creative's innovative hardware, proprietary technology, applications and services leverage the Internet, enabling consumers to experience high-quality digital entertainment — anytime, anywhere.
# # #
This announcement relates to products launched in Asia Pacific. The product names, prices and availability are subject to change without notice and may differ elsewhere in the world according to local factors and requirements. GigaWorks, SLAM, Sound Blaster and ZEN are trademarks or registered trademarks of Creative Technology Ltd in the United States and other countries. All other trademarks are the property of their respective owners.