SINGAPORE - 1 December 2008 - Creative Technology Ltd., a worldwide leader in digital entertainment products, today announced the Creative Vado™ HD Pocket Video Cam, the ideal holiday gift. The thin, lightweight Creative Vado HD is small enough to fit easily in a pocket, purse or the palm of your hand, and it captures video in 720p high-definition quality with just the touch of a button.
The Creative Vado HD is the only pocket video cam to feature HDMI connectivity and an included HDMI cable that provides 1080i output to an HDTV. It also features a wide-angle precision glass lens for stunning video quality. The Creative Vado HD includes 8GB of built-in memory to carry up to two hours of HD video and is available in carbon black.
"We designed the Vado HD so you can easily shoot all of life's spontaneous and fun moments, and then come home and watch your videos on an HDTV - all with true high-definition quality," said Steve Erickson, Vice President and General Manager for Audio and Video at Creative Labs Inc. "You can upload the videos to your PC, or what's really cool is to watch them on your HDTV in full HD quality. The Creative Vado HD delivers 1080i high-definition video to an HDTV, and it is the only pocket video cam to feature the convenience of a HDMI connection."
The simplicity of the Creative Vado HD makes it ideal for capturing video at a moment's notice. While your camcorder is stored away somewhere in a camera bag, the Creative Vado HD is ready in seconds to capture clips that you can cherish and save for a lifetime in HD quality. With 8GB of built-in memory, the Creative Vado HD can carry up to two hours of HD video, and it does not require you to carry tapes or DVDs with you. The removable, rechargeable battery provides up to two hours of recording and playback, and extra batteries are available as accessories so you can easily swap them to capture more video.
The Creative Vado HD enables fast and easy sharing of video on YouTube and Box.net. The Creative Vado HD has a built-in USB connector so you can plug it right into your PC, just like you would with a thumb drive. The Creative Vado HD includes the new Creative Vado Central 2.0 software programme built right into it that shows thumbnails of your video clips, which you can view on or copy to your PC. With one easy step, just click on the YouTube or Box.net buttons in the Creative Vado Central to easily post your videos. When you want to share your videos with selected friends and family, they can use Box.net to either view or download a copy of the video. The Creative Vado Central supports video trimming which allows users to trim unwanted video from their original clips and also enables capture of single snapshots or successive snapshots in Photo Burst mode. When you want to make and edit your video productions, just use the Muvee software that is integrated in the Creative Vado Central.
Creative Vado HD Features
Slim, lightweight, pocket-sized design
720p HD video capture
HDMI connector provides 1080i video output to HDTV
Built-in two-inch colour LCD screen
Removable rechargeable battery
Wide-angle precision glass lens
Built-in USB cable for PC
Built-in Creative Vado Central software programme for posting videos to YouTube and Box.net, plus Muvee software for video editing and customisation, and capturing snapshots
Creative Vado HD Accessories
To personalise your Creative Vado HD experience, the following accessories are available at www.creative.com:
A pouch for protection and storage, priced at S$25.00
Spare batteries providing up to two hours of recording or playback, priced at S$25.00
A power adapter with charging station so your Creative Vado HD is ready to go when you are, priced at S$45.00
Underwater diving pouch for keeping the Creative Vado HD dry during underwater shooting, priced at S$45.00
Pricing and Availability
The Creative Vado HD introductory bundle comes with a HDMI cable, silicon skin and USB extension cable and will be available at The CREATIVE Stores at Marina Square, Plaza Singapura and International Business Park, the online store at sg.store.creative.com and authorised dealers in Singapore in December 2008 at a suggested retail price of S$349.00.
For more information about the Creative Vado HD, please visit www.myvado.com. Become a fan of Creative Vado on Facebook at https://www.new.facebook.com/pages/Creative-Vado-Pocket-Video-Cam/26099524863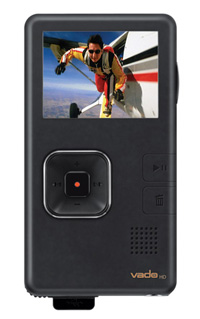 Creative Vado HD
About Creative
Creative is a worldwide leader in digital entertainment products. Famous for its Sound Blaster® sound cards and for launching the multimedia revolution, Creative is now driving digital entertainment on the PC platform with products like its highly acclaimed ZEN® MP3 and portable media players. Creative's innovative hardware, proprietary technology, applications and services leverage the Internet, enabling consumers to experience high-quality digital entertainment - anytime, anywhere.
# # #
This announcement relates to products launched in the Asia Pacific. Availability is subject to change without notice and may differ elsewhere in the world according to local factors and requirements. Vado, Sound Blaster and ZEN are trademarks or registered trademarks of Creative Technology Ltd in the United States and/or other countries. All other trademarks are the property of their respective owners.