SINGAPORE - 25 August 2009 - Creative Technology Ltd. today announced the Creative Sound Blaster Wireless for iTunes, a breakthrough for more than 100 million people who listen to iTunes music and Internet radio on their PC or Mac.The Creative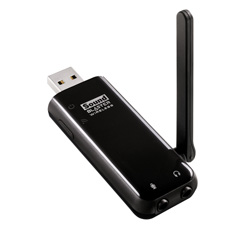 Creative Sound Blaster Wireless for iTunes
Sound Blaster Wireless for iTunes upgrades the PC or Mac to a premium wireless sound system that enables users to use the iTunes interface. It is about the size of a thumb drive, and it just plugs into the USB connection on the PC - it is as easy to use as iTunes itself. The Creative Sound Blaster Wireless for iTunes is the perfect solution for everyone who has iTunes on their PC or Mac, allowing them to listen to their music wirelessly and enhancing the quality of the playback.
Coupled with a Creative Wireless Receiver, the Creative Sound Blaster Wireless for iTunes allows users to wirelessly connect the PC or Mac to speakers or headphones when they listen to their iTunes or MP3 music. Users no longer have to connect speakers or headphones directly to their PC or Mac, because it plays back music wirelessly throughout the home. Now users can take their notebook PC or Mac from one room to another while they listen to iTunes music without skipping a beat. The Creative Sound Blaster Wireless for iTunes enables users to select up to four specific rooms where they want to wirelessly play back their music or they can broadcast to unlimited systems throughout the home.
The Creative Sound Blaster Wireless for iTunes makes every iTunes or MP3 track on the PC or Mac dramatically better, including protected or unprotected music bought from iTunes Store or ripped from CDs. It even improves virtually all kinds of music, including music from MySpace and YouTube, and favourite Internet music from sites such as Pandora, Slacker and LastFM, and music streaming from sites such as Napster and Rhapsody. The Creative Sound Blaster Wireless for iTunes restores the lost highs and lows that are missing from music by utilising award-winning X-Fi® audio technology.
"One of the key drivers of the iTunes and MP3 revolution was being able to download music from the Internet and store it on your computer or a portable handheld player that had a very small amount of memory. iTunes and MP3 compressed the music so it was only a fraction of the original size, making it quicker to download a track on the Internet, and you could store more tracks on your handheld player. In the process of making iTunes and MP3 tracks smaller so they could be downloaded, the music lost its highs and lows. Because of the popularity of iTunes, many people have heard their music in only that format so they may not know that their music should sound a lot better. Sound Blaster Wireless for iTunes does for audio what HDTV did for video, providing a significant quality improvement," said Craig McHugh, President and Chief Operating Officer of Creative Labs, Inc.
"Many people lust after high-end audio equipment and some are willing to pay hundreds or even thousands of dollars to get better sound in their cars or their home, buying premium sound systems or upgrades. For a fraction of the price, Sound Blaster Wireless for iTunes gives you phenomenal sound quality when you play back your iTunes or MP3 tracks on your Mac or PC and it works with the iTunes interface. Plus, it turns your PC or Mac into an easy-to-use wireless home audio system, that works with iTunes - a breakthrough over much more expensive systems that make you reload all of your tracks and don't work with iTunes software and can't play back iTunes protected music."
Pricing and Availability
The Creative Sound Blaster Wireless for iTunes and the Creative Wireless Receiver will be sold together at COMEX 2009 from 10-13 September 2009 and subsequently at the CREATIVE Stores at International Business Park and Marina Square, the online store at sg.store.creative.com and authorised dealers in Singapore at the suggested retail price of S$289.00.
For more information about the Creative Sound Blaster Wireless for iTunes, please visit www.soundblaster.com.
About Creative
Creative is a worldwide leader in digital entertainment products. Famous for its Sound Blaster® sound cards and for launching the multimedia revolution, Creative is now driving digital entertainment on the PC platform with products like its highly acclaimed ZEN® MP3 and portable media players. Creative's innovative hardware, proprietary technology, applications and services leverage the Internet, enabling consumers to experience high-quality digital entertainment - anytime, anywhere.
# # #
This announcement relates to products launched in the Asia Pacific. Availability is subject to change without notice and may differ elsewhere in the world according to local factors and requirements. Sound Blaster, X-Fi and ZEN are trademarks or registered trademarks of Creative Technology Ltd in the United States and/or other countries. All other trademarks are the property of their respective owners.