SINGAPORE - 7 January 2010 - Creative Technology Ltd. today announced an exciting new addition to its range of noise-cancelling personal audio gear - the Creative EP-3NC in-ear earphones. Being a pair of lightweight Active Noise-Cancelling (ANC) earphones with high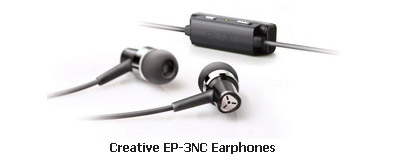 performance sonic reproduction and extended battery life, the Creative EP-3NC earphones are ideal for busy commuters and travellers who seek peace and solace in increasingly crowded environments by shielding them from annoying ambient noise by up to 90%.
Designed with portability in mind, the Creative EP-3NC earphones are one of the lightest pairs of Active Noise-Cancelling earphones in the market today, yet endowed with extended use capability for up to 100 hours on a single AAA alkaline battery. Furthermore, travellers are able to continue listening to their favourite music or movies in passive mode without Active Noise-Cancellation even after the battery power runs out - an advantage for travellers who find themselves without extra batteries during a trip.
Tuned Neodymium magnet drivers offer powerful playback for today's digital music or in-flight entertainment. Combine this with the pristine delivery from high-quality Oxygen-Free Copper (OFC) cabling and gold-plated plug, users will find the Creative EP-3NC earphones to be an aural delight, anywhere.
Complementing the Creative EP-3NC earphones' high performance are intuitive features that make them convenient to use. The push-to-hear Monitor button allows users to hear surrounding sounds without the need to remove their earphones. An integrated shirt clip allows the in-line Active Noise-Cancelling unit to be easily attached to clothing. The Creative EP-3NC earphones also come with three different eartip sizes to cater to most listeners, plus an airplane adapter, an AAA alkaline battery and a soft travel pouch for storage.
Key Features of the Creative EP-3NC Earphones
Effective ambient noise reduction by up to 90%
Stylish closed-type earphones with 9mm Neodymium magnet drivers produce superior audio with deep bass for all types of digital music and entertainment
Extended battery life of up to 100 hours with a single AAA alkaline battery
Ergonomic in-ear design allows the earphones to serve as passive noise isolation earphones when Active Noise-Cancelling is switched off or when battery power runs out
Convenient push-to-hear Monitor function allows users to listen to ambient sound without taking off the earphones
Comfortable soft silicone eartips in 3 sizes ensure an optimal fit for long hours of usage
Technical Specifications of the Creative EP-3NC Earphones
9mm Neodymium magnet drivers
Frequency response of 6Hz ~ 23kHz
Impedance of 33 ohms (ANC on) and 16 ohms (ANC off)
Sensitivity at 1kHz of 104dB/mW (ANC on) and 102dB/mW (ANC off)
Cable length of 1.3m Oxygen-Free Copper (OFC) wires
Battery life of up to 100 hours from 1 x AAA alkaline battery. Duration may vary depending on temperature and condition of use
Product weight of 27 grams
Pricing and Availability
The Creative EP-3NC earphones will be available in Asia from end February 2010 onwards at the suggested retail price of US$99.99. Pricing and availability may vary according to region.
For more information about the Creative EP-3NC earphones, please visit www.creative.com/headphones.
About Creative
Creative is a worldwide leader in digital entertainment products. Famous for its Sound Blaster® sound cards and for launching the multimedia revolution, Creative is now driving digital entertainment on the PC platform with products like its highly acclaimed ZEN® MP3 and portable media players. Creative's innovative hardware, proprietary technology, applications and services leverage the Internet, enabling consumers to experience high-quality digital entertainment - anytime, anywhere.
# # #
This announcement relates to products launched in the Asia Pacific. Availability is subject to change without notice and may differ elsewhere in the world according to local factors and requirements. Sound Blaster and ZEN are trademarks or registered trademarks of Creative Technology Ltd in the United States and/or other countries. All other trademarks are the property of their respective owners.