MILPITAS, California - 18 November 2016 - Creative Technology Ltd today announced the availability in the US of the Sound BlasterX Katana - a state-of-the-art Under-Monitor Audio System for gamers with widescreens or multi-screen setup. Creative will launch the speaker in partnership with Massdrop, giving its community of tech enthusiasts and gamers the chance to be the first in the US to own the game-changing Sound BlasterX Katana.
Sound BlasterX Katana: Hi-Res 24-bit Under-Monitor Audio System
The Sound BlasterX Katana is the world's first Under-Monitor Audio System that comes with Creative's most powerful multi-core audio DSP, doubling as a high-end Sound Blaster sound card/DAC that projects 24-bit high-resolution audio for lossless, crystal-clear and impressive room-filling sound. Its sophisticated tri-amplified design that powers 5-drivers comprises of 2 up-firing midbass drivers, 2 high-excursion tweeters, and a long-throw subwoofer, each individually powered by a DSP-controlled amplifier for precise audio reproduction at each part of the audio spectrum. Incorporating BlasterX Acoustic Engine and a Dolby Digital 5.1 decoder, the Sound BlasterX Katana gives users immersive audio for games and movies. The sleek audio system, crafted with brushed aluminium, also features a programmable Aurora Reactive lighting system with 16.8 million colours.
Highlights of the Sound BlasterX Katana:
5 high-performance drivers individually driven by DSPs

2 up-firing midbass drivers
2 high-excursion tweeters
a long-throw subwoofer in an external subwoofer unit

Powerful 150W peak power (75W RMS) total output
24-bit high-resolution audio
Doubles as an advanced Sound Blaster sound card
Automatically analyzes and restores dynamics in compressed audio tracks in real time
Fully customizable BlasterX Acoustic Engine audio enhancements capable of 7.1 surround sound
Certified Dolby Digital 5.1 decoder
USB connectivity for exceptional 24-bit/96kHz high-definition lossless audio playback from PC and Mac
Supports USB flash drive connectivity for convenient MP3, WMA, FLAC and WAV content access and playback
Optical input for high-definition digital audio playback from TVs and game consoles
Bluetooth® connectivity for wireless playback from mobile devices
Stereo 3.5 mm analog line-in
Fully customizable Aurora Reactive lighting system with 16.8 million LED lighting
Aluminium-reinforced monocoque chassis reduces unwanted vibrations that reduces audio clarity
Comes with an IR remote control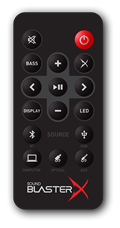 "We're extremely excited to be adding powerful gaming speaker solutions into the Sound BlasterX Pro-Gaming line of products. It's time to bring back speakers for gaming, something we started more than 10 years ago with award-winning pro-gaming speakers like the GigaWorks series," said Long Chye Low, General Manager of Creative.
"The Sound BlasterX Katana is a work of art. It is crafted in a sleek aluminium chassis to house an array of high-performance drivers individually driven by DSPs and amplifiers to ensure no compromise of audio quality. Internally, we affectionately called Katana, a UMAS which stands for Under-Monitor Audio System as it has a built-in Sound Blaster audio processor, the same audio processor used in Sound Blaster X7 as well as the Sound Blaster Z-series cards. Its sleek design allows it to be neatly placed under wide 4K monitors or multi monitors. Gamers can experience truly accurate immersive audio for today's gaming, movie and music content. When it comes to connectivity, it caters to every part of a gamers lifestyle; including optical input for console gaming, and even Bluetooth for smart devices. Sound BlasterX Katana also features programmable 16.8 million colours Aurora Reactive lighting system which complements other similarly lighted gaming peripherals. The speakers not only sound great, they will take the atmosphere around your entertainment station to a whole new level."
Sound BlasterX gaming speakers also come with BlasterX Acoustic Engine technology that provides no-holds-barred access to an arsenal of tools to control every aspect of audio. It is designed to enhance gaming audio with immersive sound, bass boost, and added clarity - revealing details that gamers never knew were there.
The Sound BlasterX Katana will be available (aside from local authorized dealers) for a limited time on Massdrop.com - the largest community commerce platform in the world - as part of Creative's initiative to reach out to tech enthusiasts, gamers and anyone looking for an advanced speaker solution that allows them to get the most out of today's new world of ultra-immersive audio and video entertainment.
"We believe the Katana is going to redefine the options for desktop speakers for those with widescreens and multiple monitors," said Ryan Schlieper, Product Marketing Manager for Gaming Audio at Creative.
"And the audience and customers at Massdrop are all about being on the cutting-edge of technology and spreading the word of technology that truly changes the game and sets a new standard for users all over the world. Katana is a mixture of elegance and hardcore technology that fits perfectly with the Massdrop community and we're excited about this partnership that will get Katana into the hands of some of the most demanding customers out there. Just like the renowned legendary blades created by Japanese master craftsmen, we feel that our Katana is a robust and fierce addition to any gamer's arsenal."
"We're thrilled to be working with Creative in making the BlasterX series available here at Massdrop. It truly embodies the cutting-edge technology that our community looks for. And in line with Massdrop's passion in delivering only the best products, we foresee many more collaborations and exciting Creative products to come," said Brian Hutchins, Buying Manager at Massdrop.
Pricing and Availability The Sound BlasterX Katana will be available from 22 November 2016 and will be priced at USD299.99 on Massdrop.com. It will subsequently be available on www.creative.com.
For in-store availability, please refer to local authorized dealers.
For more information about the Sound BlasterX Katana and the entire Sound BlasterX Pro-Gaming series, visit
BlasterX.com
.
About Creative
Creative is a worldwide leader in digital entertainment products. Famous for its Sound Blaster® sound cards and for launching the multimedia revolution, Creative is now driving digital entertainment with cutting-edge audio solutions which include premium wireless speakers, wireless headphones, and powerful audiophile-grade amplifiers and digital audio converters. Today, Creative re-invents the Sound Blaster, which has a user base of over 400 million, with its ground-breaking Sound Blaster Roar and Sound Blaster X7 that aim at the new mobile networked generation by bridging the worlds of the computer, smartphones, and tablets. Creative's proprietary technologies, innovative hardware, applications and services leverage the Internet, enabling consumers to experience high-quality digital entertainment - anytime, anywhere.
About Massdrop
Massdrop is a community-driven marketplace and custom product producer for enthusiasts. Audiophiles, quilters, backpackers, style mavens and hobbyists can connect, discuss interests, and save on a wide range of products when they buy as a group on Massdrop. Founded in 2012 by Steve El-Hage and Nelson Wu, the company now serves over 3 million users. To learn more visit massdrop.com
# # #
This announcement relates to products launched in the United States. Availability is subject to change without notice and may differ elsewhere in the world according to local factors and requirements. Creative, the Creative logo, Sound Blaster and the BlasterX logo are trademarks or registered trademarks of Creative Technology Ltd in the United States and/or other countries. Dolby and the double-D symbol are trademarks of Dolby Laboratories. The Bluetooth® word mark and logo are registered trademarks owned by Bluetooth SIG, Inc. and any use of such marks by Creative Technology Ltd is under license. All rights reserved. All other trademarks are the property of their respective owners.
CONTACT INFORMATION
Creative Labs, Inc.
Ryan Schlieper
408-546-6489
ryan_schlieper@creativelabs.com
Massdrop
Anna Roubos
774-232-2460
Massdrop@ogilvy.com