LAS VEGAS, Nevada - 4 January 2017 - Creative today announced it would be showcasing a full range of gaming products at CES 2017. The range covers gaming audio solutions that deliver best-in-class audio as well as high-performance peripherals that offer precise control and swift execution for gamers: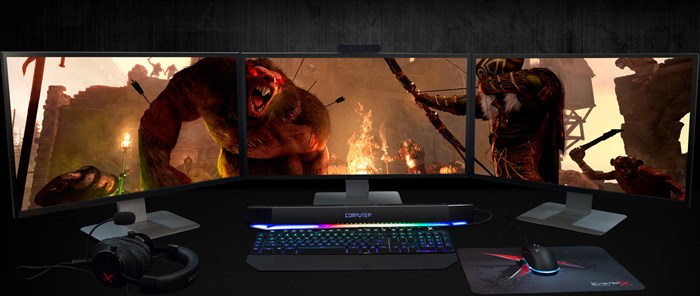 Aurora Reactive Lighting System
Apart from the gaming headset and external sound card, the lineup comes with the fully customizable Aurora Reactive lighting system featuring a brilliant spectrum of 16.8 million colors inspired by earth's natural phenomenon. This is sure to please gamers who are looking to build a neat gaming and entertainment space with unique displays of light.
Sound BlasterX Katana - Hi-Res 24-bit Under-Monitor Audio System
The Sound BlasterX Katana is the world's first Under-Monitor Audio System that comes with Creative's most powerful multi-core audio DSP, doubling as a high-end Sound Blaster® sound card/DAC that projects 24-bit high-resolution audio for lossless, crystal-clear and impressive room-filling sound.
The powerful 150W peak power audio system boasts a sophisticated tri-amplified design that powers 5-drivers comprises of 2 up-firing midbass drivers, 2 high-excursion tweeters, and a long-throw subwoofer, each individually powered by a DSP-controlled amplifier for precise audio reproduction at each part of the audio spectrum. Incorporating the full customizable BlasterX Acoustic Engine and a Dolby® Digital 5.1 decoder, the Sound BlasterX Katana gives users immersive audio for games and movies.
Designed for gamers with widescreens or multi-screen setup, the sleek audio system comes with flexible connectivity options such USB, USB flash drive, optical, Bluetooth, and AUX. Crafted with brushed aluminum, it also features a programmable Aurora Reactive lighting system with 16.8 million colors to complement other similarly lighted gaming peripherals and will take the atmosphere around a gamer's entertainment station to a whole new level.
Sound BlasterX Siege M04 - Precision Gaming Mouse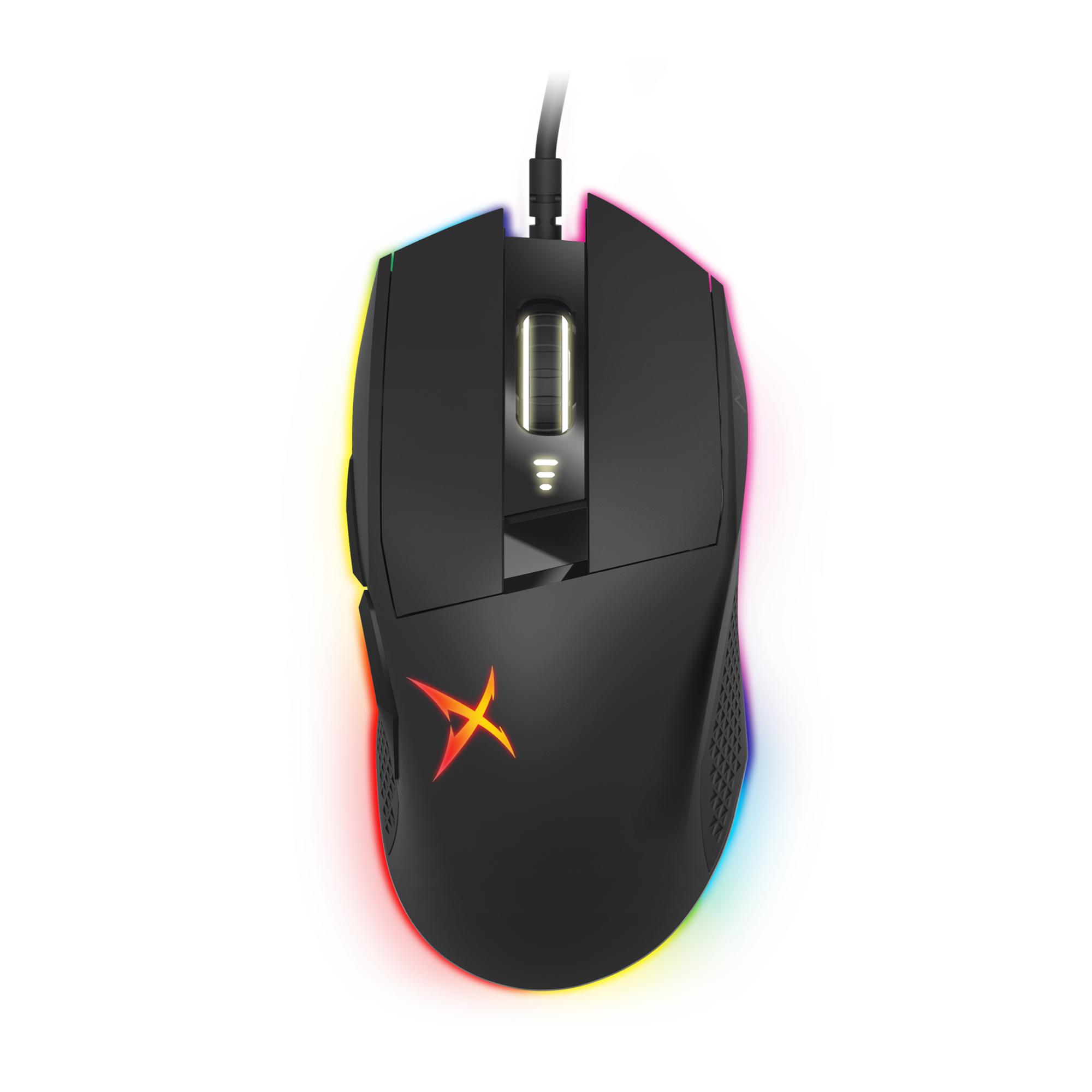 Built with a PixArt PMW3360 IR LED sensor and a 32-bit high speed MCU, the Siege M04 boasts a polling rate of 1000 Hz and 12,000 native DPI. It is capable of tracking every minute hand movement accurately without inherent acceleration and zero cursor prediction, giving gamers precise control. Coupled with a low 2mm lift-off distance, the Siege M04 ensures precise 1:1 pixel mapping across high-resolution displays without the unwanted accidental movements.
Featuring 7 fully programmable buttons including a dedicated sniper button and a 3-level DPI switch for easy-access and on-the-fly switching, the Siege M04 comes with internal memory so that users can program sensor DPI level and polling rate, lighting profiles as well as assign buttons according to their gaming needs. Fitted with OMRON® mechanical switches beneath the left and right primary buttons, the Siege M04 executes up to 50 million clicks flawlessly.
Designed ergonomically for right-handers, the mouse fits snugly within the palm and suits both palm and claw grip players. Its non-slide matte surface and rubber-based textured regions ensure a perfect grip even after long hours of gaming. Fitted with low friction, large surfaced PTFE feet, the Siege M04 provides ultra smooth gliding. The Siege M04 also comes with the Aurora Reactive lighting system that is fully programmable with up to 16.8 million colors. 11 independent LED segments lined up all around the mouse provide a brilliant All-Edge Light Display - the only mouse with such lighting.
Sound BlasterX Vanguard K08 - High-Performance RGB Mechanical Gaming Keyboard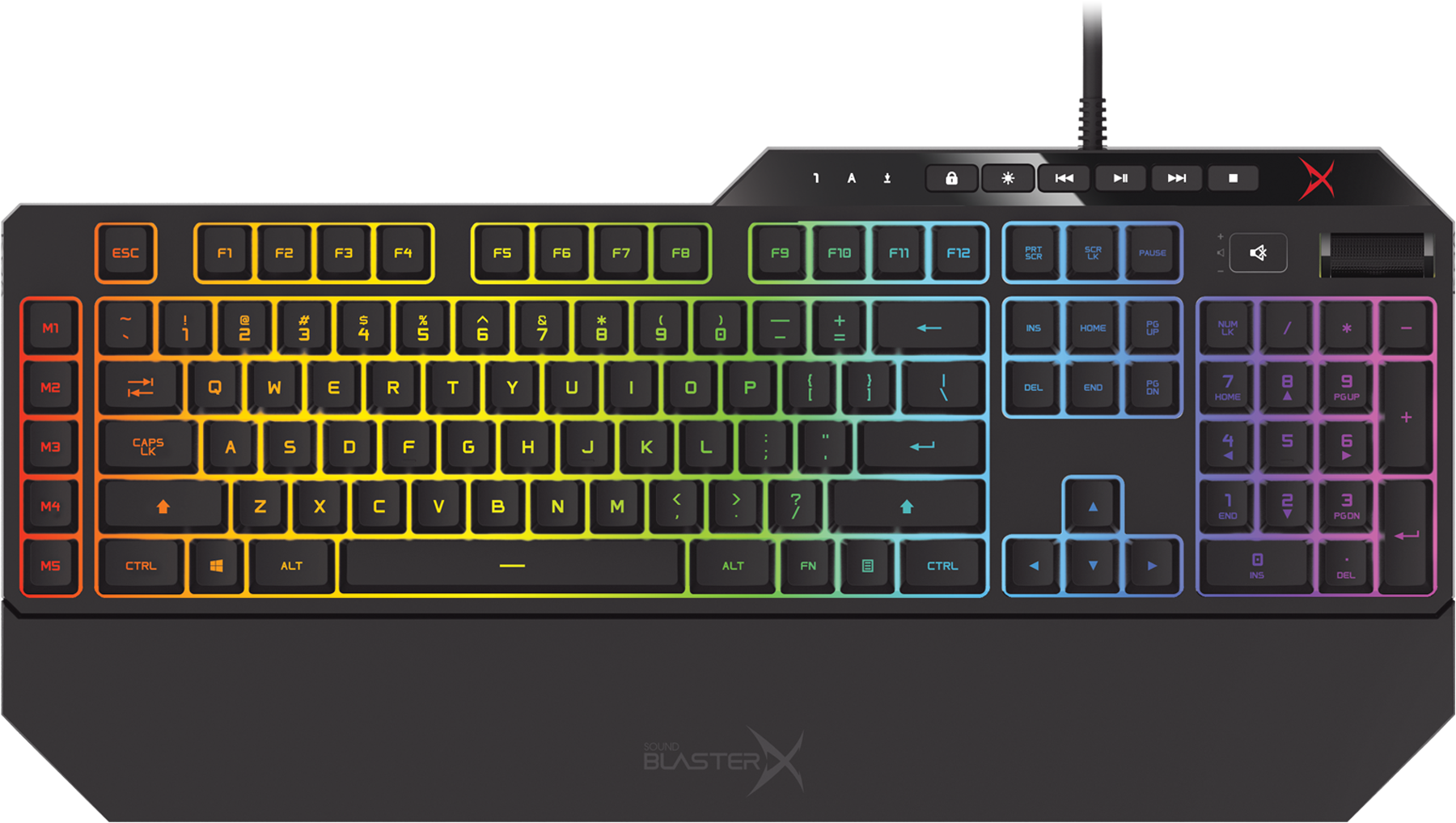 The Sound BlasterX Vanguard K08 is Creative's first high-performance mechanical gaming keyboard. The Vanguard K08 features custom mechanical switches - PRES (Perceive-React-Execute Switch) - professionally developed for high actions per minute gaming and high words per minute typing in comfort. These custom switches are co-designed and produced with leading global switch supplier, OMRON.
Boasting a whopping 70 million actuation lifespan and a 45g actuation force with silent tactile feedback, the pro-customized switches are ultra responsive and built to last. The PRES switch also features a short 1.5mm pre-travel distance and a total travel distance of only 3.5mm, compared to the standard 2.0mm and 4.0mm respectively on regular switches. They are optimized to activate 25% faster so that gamers can fire off commands at higher speed and execute 12.5% more keypresses - and with less error. On top of that, unlike regular switches, each switch on the Vanguard K08 features double cross-point contact technology for fail-safe contacts; ensuring every command is fired off precisely even if one contact fails. The low-profile keycaps on the Vanguard K08 ensure swift strokes for comfortable quick input, while the 26-key rollover with anti-ghosting technology eliminates input lag and delivers accurate commands every time.
The compact keyboard is ergonomically designed with 109 fully customizable keys as well as onboard media controls, including a large rotary volume control, for maximum convenience. Sporting brilliant ambient-reactive RGB backlighting, the keys can be individually marked by color for easy recognition when gaming in the dark or to simply add "war paint" to a gamer's battlestation.
Sound BlasterX Kratos S5 - Customizable 2.1 USB Audio Gaming Speakers with RGB Lighting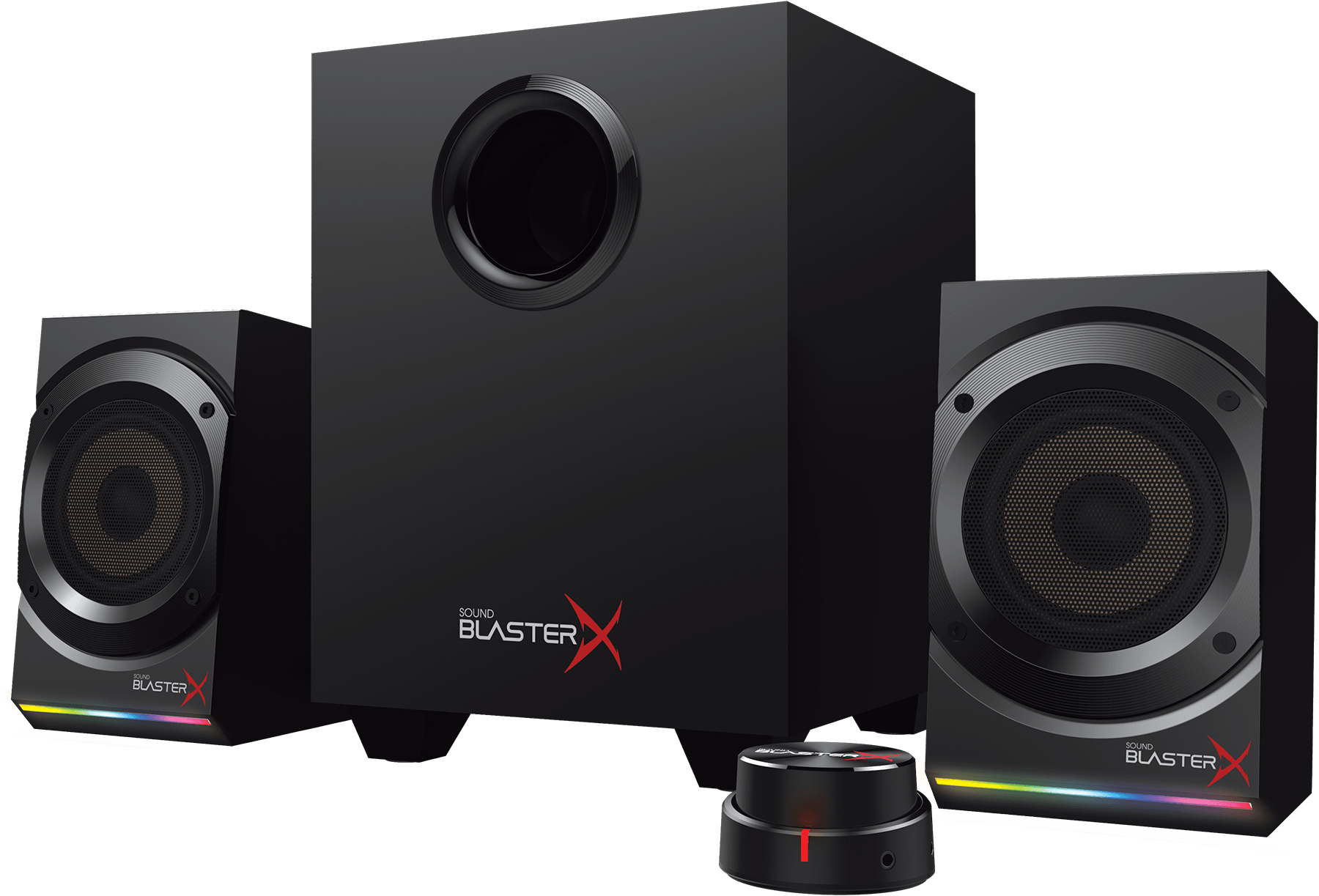 The Sound BlasterX Kratos S5 2.1 gaming speaker system features built-in Sound Blaster USB audio that plays back up to 24-bit/96kHz highly detailed lossless audio and wooden enclosures for fuller, more natural sound than plastic based designs.
The powerful 120 watt peak power speaker system comes with two 4" satellites which have larger volume capacity to produce clear highs and detailed midrange audio, and a 6.5" custom-tuned down-firing subwoofer with port tube that pumps out deep dynamic bass - critical elements in bringing out the best in today's games, movies and music. It also features fully customizable audio enhancements capable of 7.1 surround sound and programmable Aurora Reactive lighting system.
Sound BlasterX H7 Tournament Edition - HD 7.1 Surround Gaming Headset with Dual Sound Signature
This new Sound BlasterX H7 Tournament Edition bears the same durable, comfortable design and professionally tuned audio signature of the award-winning Sound BlasterX H7 gaming headset but with an improved overall performance and an edgier black with red finish.
The H7 Tournament Edition features upgraded 50mm FullSpectrum drivers that are tuned for better sensitivity and clearer, louder and more accurate sound reproduction for powerful detailed audio. The detachable microphone has been redesigned and improved for enhanced voice pick up and noise cancellation, even in loud gaming environments. The new brushed metal earcup plates and dark gun metal finishing with Sound Blaster's signature red cable give the headset an effortless edgy look.
Engineered as the world's first true competitive gaming headset, the H7 Tournament Edition features dual sound signature. In USB mode, the hardware-programmable X-Plus sound signature emphasizes game cues and decreases distractions during tournaments without requiring on-site software installations. The analog mode offers a dynamic sound signature with punchy highs, mids and lows for a balanced, natural sound with enhanced clarity and precision.
Also available is the Sound BlasterX H5 Tournament Edition, an analog variant of the H7 Tournament Edition gaming headset.
Sound BlasterX G5 - 7.1 HD Audio External Sound Card and Headphone Amp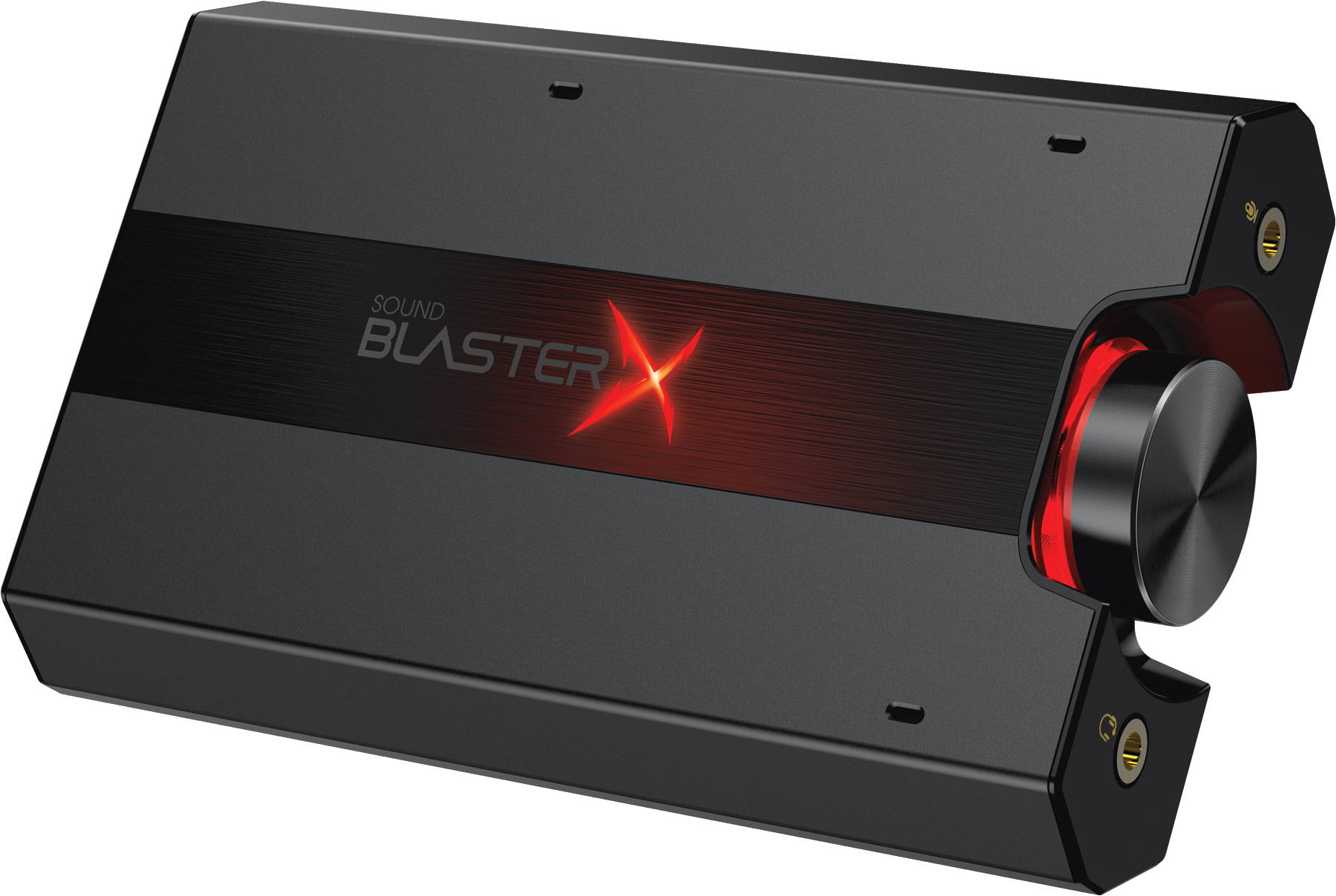 Built with precision audiophile components, the Sound BlasterX G5 is a powerful external sound card that features a high-resolution 24-bit/192kHz 120dB USB DAC and a headphone amplifier with low 2.2 ohm output impedance. Capable of producing high-fidelity audio as well as driving sensitive in-ear monitors and studio-grade headphones up to 600 ohms, the Sound BlasterX G5 delivers rich, immersive and pristine sound for the ultimate gaming experience.
The plug-and-play Sound BlasterX G5 boasts an integrated SB-Axx1 multi-core audio processor for hardware-accelerated audio enhancements and 3D positional surround sound on the go. Users can even personalize and store up to 3 audio profiles on the Sound BlasterX G5 for an added advantage in tournaments. With native multi-channel input support, Sound BlasterX G5 is able to deliver true 7.1 audio for ultra-realistic virtualization of gaming effects and audio cues with perfect accuracy and positioning.
Sound BlasterX G5 works across platforms, from PC, Mac, PS4, Xbox One to mobile devices. Though pocket-sized, Sound BlasterX G5 packs an illuminated volume control knob and dedicated Audio Profile and Scout Mode buttons for quick volume and audio adjustments during games. An onboard USB port even allows for easy connection to other USB peripherals such as a mouse or keyboard.
All these products will be showcased during CES 2017 from 5-8 January 2017 at:
The Venetian Las Vegas,
Level 4 Meeting Room,
Zeno Room 4607 & Zeno Room 4608,
3355 S Las Vegas Blvd, Las Vegas, NV 89109, USA.
Pricing and Availability
These Sound BlasterX products are priced and available on Creative.com as follows:
| | | |
| --- | --- | --- |
| • Sound BlasterX Katana | USD 299.99 | Now |
| • Sound BlasterX Siege M04 | USD 79.99 | Now |
| • Sound BlasterX Vanguard K08 | USD 179.99 | Now |
| • Sound BlasterX Kratos S5 | USD 159.99 | February 2017 |
| • Sound BlasterX H7 Tournament Edition | USD 159.99 | February 2017 |
| • Sound BlasterX H5 Tournament Edition | USD 129.99 | Now |
| • Sound BlasterX G5 | USD 149.99 | Now |
For in-store availability, please refer to local authorized dealers.
For more information, visit www.creative.com.
About Creative
Creative is a worldwide leader in digital entertainment products. Famous for its Sound Blaster® sound cards and for launching the multimedia revolution, Creative is now driving digital entertainment with cutting-edge audio solutions which include premium wireless speakers, wireless headphones, and powerful audiophile-grade amplifiers and digital audio converters. Today, Creative re-invents the Sound Blaster, which has a user base of over 400 million, with its ground-breaking Sound Blaster Roar and Sound Blaster X7 that aim at the new mobile networked generation by bridging the worlds of the computer, smartphones, and tablets. Creative's proprietary technologies, innovative hardware, applications and services leverage the Internet, enabling consumers to experience high-quality digital entertainment - anytime, anywhere.
# # #
This announcement relates to products launched in the United States. Availability is subject to change without notice and may differ elsewhere in the world according to local factors and requirements. Creative, the Creative logo, Sound Blaster and the BlasterX logo are trademarks or registered trademarks of Creative Technology Ltd in the United States and/or other countries. Dolby and the double-D symbol are trademarks of Dolby Laboratories. OMRON is a registered trademark of OMRON Corporation. All other trademarks are the property of their respective owners.
CONTACT INFORMATION
Creative Labs, Inc.
Ryan Schlieper
408-546-6489
ryan_schlieper@creativelabs.com