LOS ANGELES - 12 June 2017 - Creative Technology Ltd today announced at E3 2017 the latest addition to its Sound BlasterX Pro-Gaming Series, the Sound BlasterX AE-5. E3 is the world's premier event for computer, video and mobile games and related products, making it the perfect place to debut the next era of PC audio.
The sound card features the world's best gaming headphone amplifier for PCs. The Sound BlasterX AE-5 delivers the ultimate audio performance with the full force of a 122dB 32-bit/384kHz ESS Sabre™ DAC, a kick-ass custom-designed 600Ω discrete headphone amp, audiophile-grade components, and proprietary Sound Blaster audio enhancement technologies.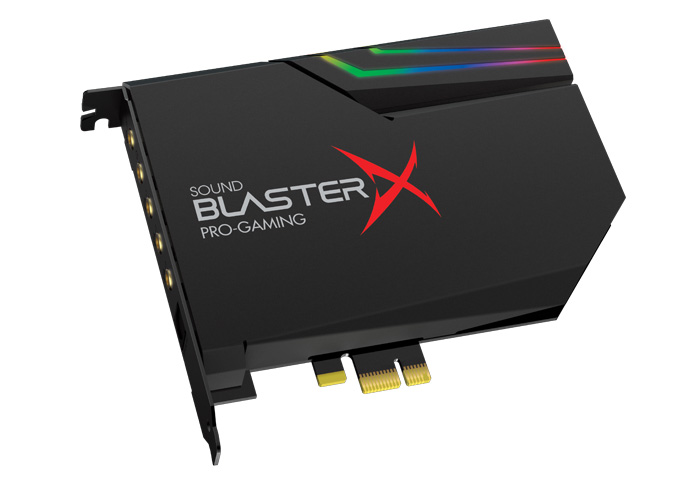 Sound BlasterX AE-5 PCIe Sabre Class Gaming DAC with Discrete Headphone Amp
Xamp Discrete Headphone Amp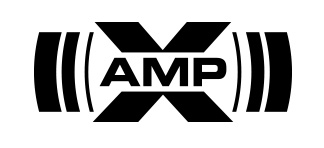 Delivering an industry-leading gaming headphone amplification experience, the on-board headphone amplifier is custom-built using discrete transistors and audiophile-grade WIMA® film/foil capacitors in a dual-amp design to satisfy the most demanding needs of today's intense games and high-resolution audio. Experience the difference of a discrete dual-amp design as each audio channel is individually amplified to deliver pristine, uncompromised audio. Plus, the high heat resistance of the German-made WIMA capacitors greatly reduces noise and audio interference. The Xamp's ultra low 1Ω output impedance also makes it perfectly capable of driving sensitive in-ear monitors as well as studio-grade headphones from 16Ω to 600Ω.
122dB DNR Sabre-Class DAC with Industry Leading Audio Processing
At the heart of the Sound BlasterX AE-5 sound card is the quad-core Sound Core3D audio DSP and a 122dB ESS Sabre-Class DAC that instantly boosts regular motherboard audio with up to 32 times more clarity. The premium audiophile-grade DAC with its high dynamic range indulges users with up to 32-bit/384kHz lossless playback and true audio fidelity for high-definition audio in games, movies, and music.
Updated, refined and perfected through years of being the leader in sound processing, Creative's AE-5 is feature-packed with the latest and greatest version of Creative's award-winning audio processing and algorithms that improve music, movie and gaming experiences. The legendary Sound Blaster technologies provide fully customizable DSP-powered audio enhancements, crystal-clear vocal reproduction, in-game voice communication enhancements, 7.1 virtual surround sound and other advanced audio technologies.
World's First Sound Card with Integrated RGB Controller Powered by Aurora Reactive Lighting System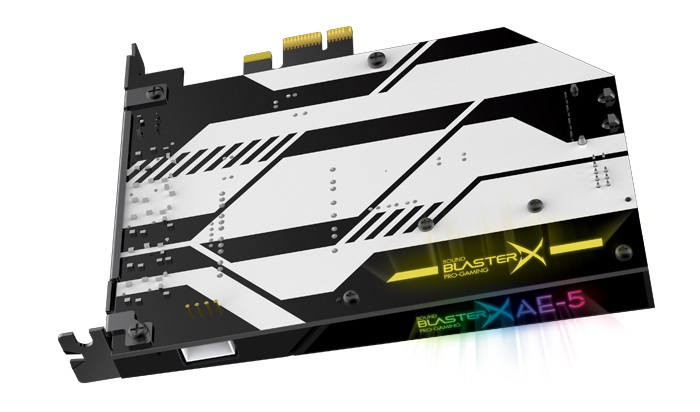 Sound BlasterX AE-5 with RGB Lights Shining Through
The Sound BlasterX AE-5 card is the first sound card to feature a built-in RGB controller that comes with the Aurora Reactive Lighting System. A separate RGB lighting system could set a user back by at least USD 50, but now, this is built into the card itself with the AE-5: giving users amazing value and performance for their system. This also means that valuable space within a gamer's desktop can be saved for other components.
The RGB controller, powered by Creative's very own Aurora Reactive Lighting System, not only lights up the card through the PCB, but also gives gamers the flexibility to build their dream gaming rig by connecting up to four LED strips to match the awesome sound with an awesome light show. The fully customizable Aurora Reactive Lighting System allows users to choose from multiple presets or program it with up to 16.8 million colors and various rhythms to choose from, using the Sound Blaster Connect PC software.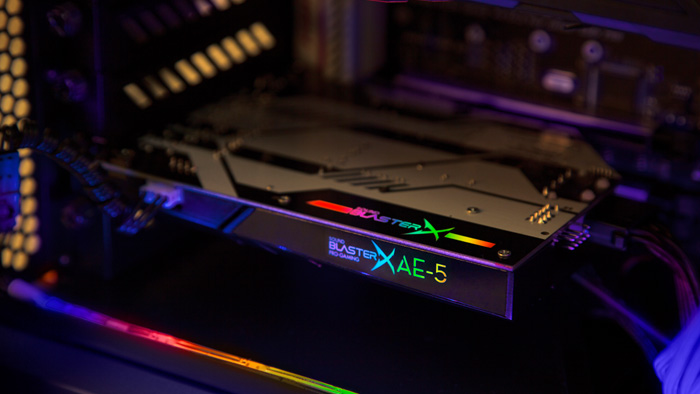 Sound BlasterX AE-5 with Integrated RGB Controller Powers Up LED Strips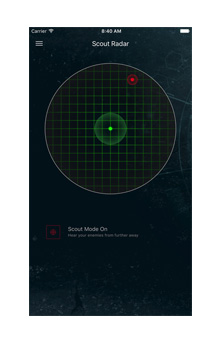 Scout Radar Display on Mobile Device
All New Scout 2.0 Feature
Scout 2.0 is an upgraded version of the Creative's well-received Scout Mode feature - Scout 2.0 now also includes Scout Radar. Scout Radar is a smart companion that enables gamers to visualize and pinpoint their enemy's position on a Scout Radar app with the user's smart device, while Scout Mode lets gamers hear their enemies before they are seen.
The all new Scout 2.0 feature is sure to give gamers that added winning edge.
5.1 Discrete Speaker System Support
The Sound BlasterX AE-5 comes with support for a full-fledged discrete 5.1 speaker set-up, enabling gamers to enjoy the full potential of surround sound in today's entertainment content.
"The Sound BlasterX AE-5 represents the best amplification experience for gaming headphones that a sound card can offer. Since our very first sound card 30 years ago, we've always been passionate about sound when it comes to entertainment and gaming. The AE-5 embodies our continuing dedication in giving gamers the absolute best. This is an amazing way to celebrate the 30th anniversary of our gift of sound to the PC world: the Sound BlasterX AE-5," said Low Long Chye, General Manager of Creative.
"Discrete circuitry designs using components such as transistors and capacitors deliver audio with warmth and nuance that is seldom found in today's commoditized audio products. With the AE-5, we have preserved the rich legacy of these quality components and combined it with world-class engineering and audio processing technology to deliver the absolute best audio experience for the PC. And that's not all, the AE-5 also takes the sensory experience beyond sound with a 16.8 million color light show."
Technical Specifications
•
Audio/DSP processor
: Sound Core3D
•
Channels
: 5.1 discrete speaker out
7.1 virtual headphone surround
•
Interface
: PCIe
•
DAC
: ESS ES9016K2M SABRE32 Ultra DAC
o
Max playback resolution
: 32-bit/384kHz*
o
DNR
: 122 dB
o
THD + N
: 0.00032%
•
ADC
: Sound Core3D
o
Max recording resolution
: 24-bit/96kHz
•
Headphone amp (600 Ω)
: Custom-designed discrete headphone amp (Xamp)
o
SNR
: 116 dB
o
THD + N
: 0.0009%
o
Output impedance
: 1 Ω
o
Headphone impedance range
: 16 - 600 Ω
•
Connectivity
: 3 x 3.5mm line out (front, rear, center/sub)
1 x TOSLINK optical out
1 x 3.5mm headphone out
1 x 3.5mm microphone/line in
1 x Intel HD audio front panel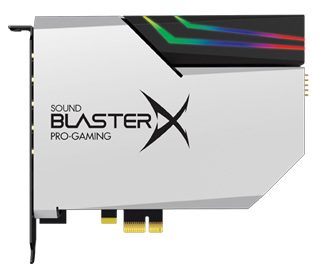 Sound BlasterX AE-5 Pure Edition
Sound BlasterX AE-5 Pure Edition
A special white edition the Sound BlasterX AE-5 is also available exclusively online at www.creative.com. Unlike the standard version which comes with a single 30cm LED strip with 10 LEDs, this special Pure Edition will include four LED strips.
Full Range of Sound BlasterX Pro-Gaming Gear and the X-Fi Sonic Carrier at E3
Visitors can experience the all-new Sound BlasterX AE-5 together with the entire Sound BlasterX series at Booth 3053, E3 Los Angeles Convention Center (June 13 - 15, 2017). The Sound BlasterX series includes the latest gear in the gaming ecosystem, including the award-winning Katana under-monitor audio system, Siege M04 precision gaming mouse, and Vanguard K08 mechanical keyboard. Also making a special appearance will be the X-Fi Sonic Carrier, Creative's ultimate audio for ultimate gaming. The Sonic Carrier, a powerful home entertainment system with Dolby Atmos®, Creative SuperWide X-Fi™, 17 drivers in a 15.2 configuration, and 2000W peak power, is set to blow gamers away with the ultimate immersive cinematic sound. Besides being showcased at the Creative booth, the Sonic Carrier will be showcased by major game developers BANDAI NAMCO, SEGA Europe, ATLUS/SEGA and Deep Silver to show-off their very latest immersive gaming content at their booths.
Pricing and Availability
The Sound BlasterX AE-5 will be available in July 2017 on www.creative.com and at authorized dealers at USD149.99.
Gamers in the US will be able to pre-order the Sound BlasterX AE-5 from Newegg, Fry's, Micro Center and Creative websites beginning June 13, 2017, coinciding with the launch at E3.
The Sound BlasterX AE-5 Pure Edition will be available in August 2017 exclusively on www.creative.com at USD179.99.
For more information on Sound BlasterX AE-5, and in-country availability, go to www.creative.com
About Creative
Creative is a worldwide leader in digital entertainment products. Famous for its Sound Blaster® sound cards and for launching the multimedia revolution, Creative is now driving digital entertainment with cutting-edge audio solutions which include premium wireless speakers, wireless headphones, and powerful audiophile-grade amplifiers and digital audio converters. Today, Creative re-invents the Sound Blaster, which has a user base of over 400 million, with its ground-breaking Sound Blaster Roar and Sound Blaster X7 that aim at the new mobile networked generation by bridging the worlds of the computer, smartphones, and tablets. Creative's proprietary technologies, innovative hardware, applications and services leverage the Internet, enabling consumers to experience high-quality digital entertainment - anytime, anywhere.
# # #
This announcement relates to products launched in the United States. Availability is subject to change without notice and may differ elsewhere in the world according to local factors and requirements. Creative, the Creative logo, Sound Blaster and the BlasterX logo are trademarks or registered trademarks of Creative Technology Ltd in the United States and/or other countries. ESS Sabre is a trademark of ESS Technology, Inc. WIMA is a registered trademark of WIMA Spezialvertrieb elektronischer Bauelemente GmbH & Co.KG. All rights reserved. All other trademarks are the property of their respective owners.
CONTACT INFORMATION