BERLIN, Germany - Creative Technology Ltd today announced at Gamescom German and Nordic keyboard layout additions to Sound BlasterX Vanguard K08 - a precision mechanical gaming keyboard engineered from the ground up to give professional gamers the winning edge. Sound BlasterX Vanguard was initially launched with only a US keyboard layout.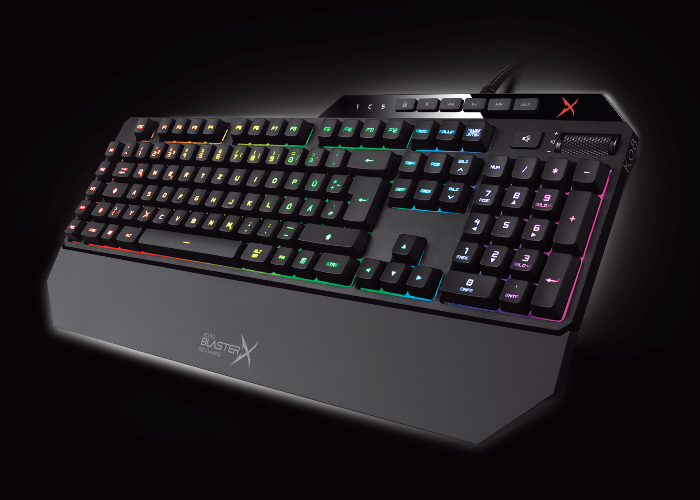 Sound BlasterX Vanguard K08 German Keyboard
The Sound BlasterX Vanguard is designed to keep gamers at the top of their game. Crafted with ultra responsive and durable custom-made mechanical switches, the compact keyboard with 110 customizable keys, an ergonomically designed body, clean matte surface and fully programmable ambient-reactive lighting, perfectly delivers a gamers' every command with pin point precision.
Since its launch in January, the Vanguard has garnered rave reviews worldwide:
". . . easily one of the best keyboards we've seen in a long time. Great build quality, flawless design, and excellent performance throughout." - eTeknix, Editor's Choice Award
"The Sound BlasterX Vanguard K08 delivers phenomenal gaming performance. I've spent the last two weeks jumping between numerous game genres, and regardless of the title, I've felt a notable increase in reaction time and fluidity" - Game Scouts, Grade: A
"The Vanguard has everything that I want from a gaming keyboard...During gaming, the Siege and Vanguard do the most important thing I want from a gaming keyboard-and-mouse: they melt into my hands and into the desk. I forget about them and am able to focus entirely on the game instead." - Venture Beat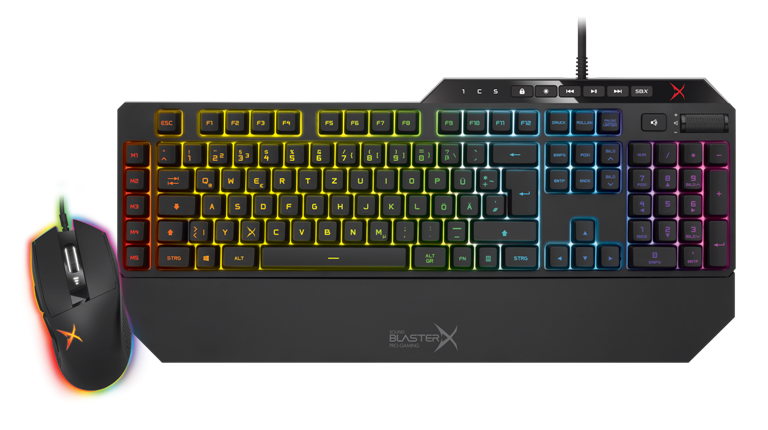 Highlights of the Sound BlasterX Vanguard K08: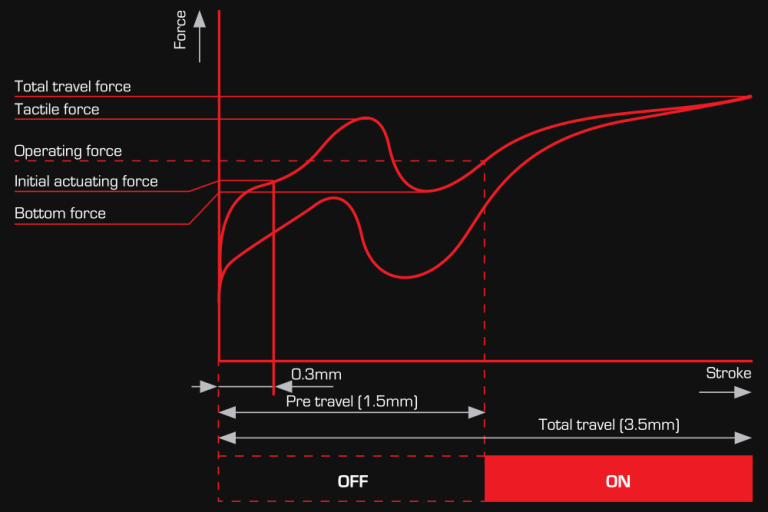 Sound BlasterX Vanguard K08's PRES Switch Delivers Faster Response and More Keypresses with Shorter 1.5mm Actuation Distance and 3.5mm Travel Depth
Professionally-customized PRES (Perceive-React-Execute Switches), co-designed with OMRON, features double-cross-point contact technology for fail-safe keystrokes, and a durability that last over 70 million keystrokes. It also incorporates a centred light guide for brilliant RGB backlighting that shines through and around the keycaps
45g actuation force and short 1.5mm pre-travel distance offers rapid-fire input - 25% faster and 12.5% more keypresses
Responsive tactile switches offer a reliable and better actuation feel, but with quieter clicks for those who prefer a more silent approach to gaming
26-key rollover with anti-ghosting for reliable registration of inputs even in the most demanding game
Low-profile Swift keycaps are ergonomically designed for better typing experience
110 fully programmable keys
High-quality metal onboard rotary volume and media controls allows gamers easy access
Fully customizable, per-key backlighting and lighting effects with 16.8 million colour Aurora Reactive lighting system via the Sound Blaster Connect software
High-speed USB pass-through port for convenient peripheral connectivity
Adjustable height with sturdy extendable feet
Includes a detachable wrist rest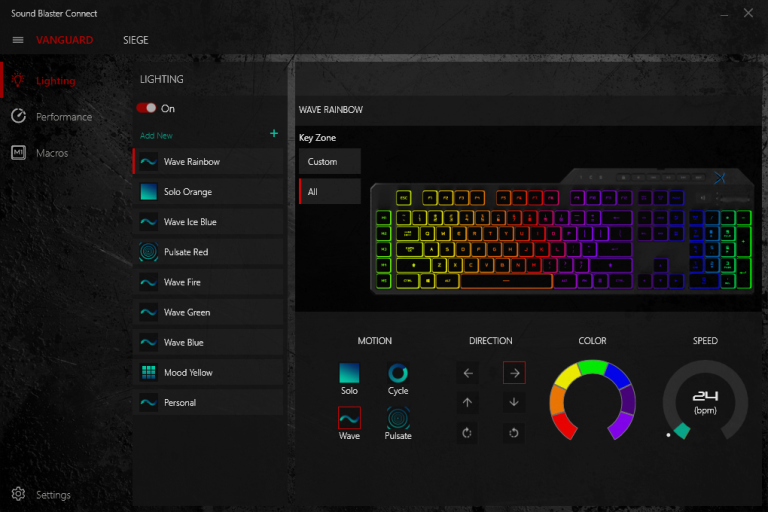 Fully Programmable Keys and Lighting via Sound Blaster Connect Software
Creative will soon be releasing an Aurora SDK that allows game developers and enthusiasts to programme and synchronize lighting effects across all Aurora Reactive-enabled Sound BlasterX products.
The German and Nordic keyboard layout versions of the Sound BlasterX Vanguard, and the full Sound BlasterX Series, will be demonstrated at Gamescom 2017, Cologne, Germany, Hall 5.1 Booth 20. To find out more about Sound BlasterX at gamescom 2017, and the Sound BlasterX Series, go to BlasterX.com.
Pricing and Availability
The German and Nordic layout versions of Sound BlasterX Vanguard K08 will be available at Creative.com at EUR179.99.
For in-store availability, please refer to authorised dealers.
For more information about the Sound BlasterX Vanguard K08 and the entire Sound BlasterX series, visit BlasterX.com.
About Creative
Creative is a worldwide leader in digital entertainment products. Famous for its Sound Blaster® sound cards and for launching the multimedia revolution, Creative is now driving digital entertainment with cutting-edge audio solutions which include premium wireless speakers, wireless headphones, and powerful audiophile-grade amplifiers and digital audio converters. Today, Creative re-invents the Sound Blaster, which has a user base of over 400 million, with its ground-breaking Sound Blaster Roar and Sound Blaster X7 that aim at the new mobile networked generation by bridging the worlds of the computer, smartphones, and tablets. Creative's proprietary technologies, innovative hardware, applications and services leverage the Internet, enabling consumers to experience high-quality digital entertainment - anytime, anywhere.
# # #
This announcement relates to products launched in Europe. Availability is subject to change without notice and may differ elsewhere in the world according to local factors and requirements. Creative, the Creative logo, Sound Blaster and the BlasterX logo are trademarks or registered trademarks of Creative Technology Ltd in the United States and/or other countries. All rights reserved. OMRON is a registered trademark of OMRON Corporation. All other trademarks are the property of their respective owners.
CONTACT INFORMATION