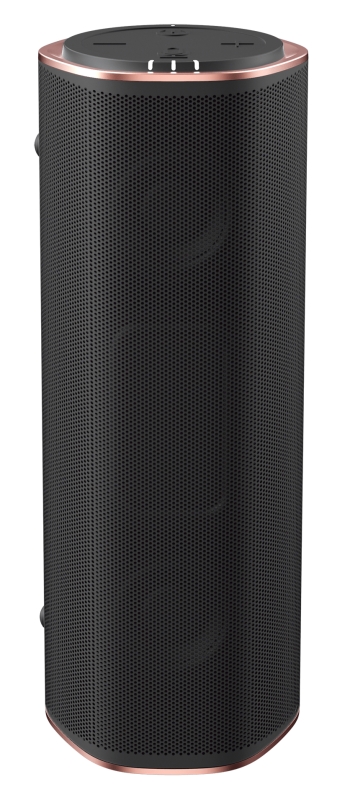 Creative Omni Portable Wireless Multi-Room Speaker
BERLIN, Germany - 30 August 2017 - Creative Technology Ltd today announced that it would begin its foray into the world of portable Wi-Fi speakers with its first offering: The Creative Omni, at IFA 2017.
Multi-Room Multi Speaker
As its name suggests (Omni is a Latin prefix meaning "all" or "every"), users can deploy multiple Creative Omni units all around their homes and enjoy music wirelessly via Wi-Fi. The speaker works with the Sound Blaster InterConnect app that allows users to manage audio streaming to one or multiple speakers from their smartphones or tablets.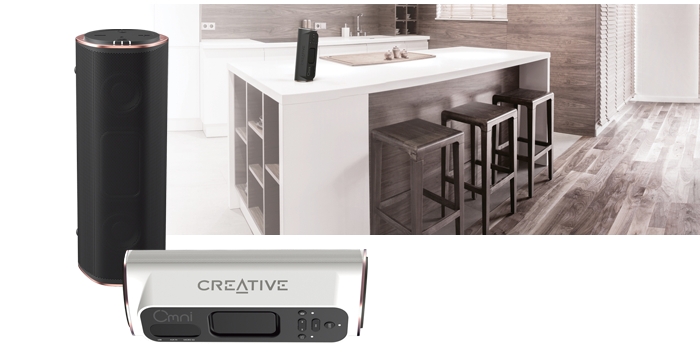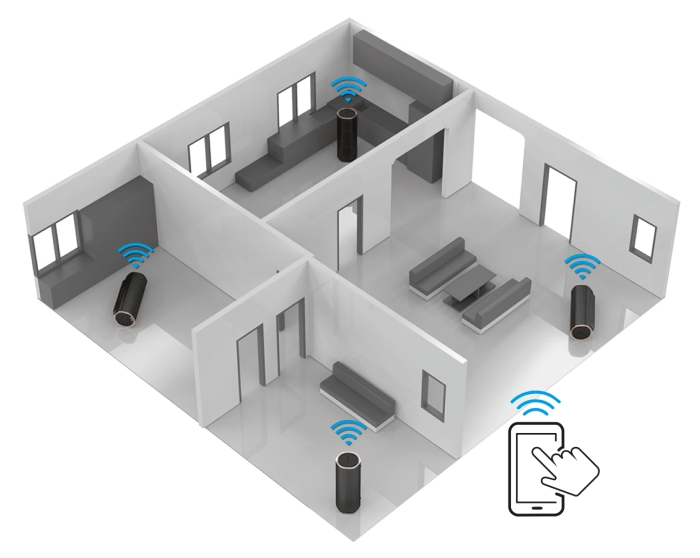 Stream Audio to One or Multiple Omni Speakers around the Home via Wi-Fi
Access to Millions of Songs
Creative Omni supports a wide range of popular streaming services including Spotify Connect, which give users access to millions of songs, plus effortless control of their music across multiple smartphones and tablets. Users can also listen to thousands of free Internet radio stations available on the iHeartRadio service - which is also supported by Creative Omni.
"The possibilities for enjoying music anywhere - even throughout their homes with multiple speakers - are exciting with the Creative Omni. With Wi-Fi and instant access to the internet, users have the potential of accessing millions of songs from service providers like Spotify and iHeartRadio, and experience quality audio playback from a well engineered portable speaker," said Low Long Chye, General Manager of Creative.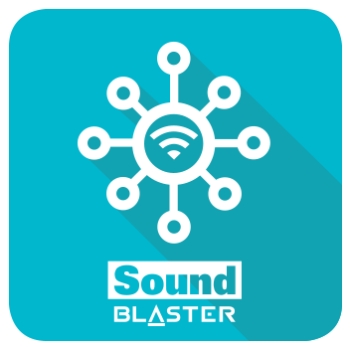 Sound Blaster InterConnect App Lets Users Control Multiple Creative Omni
"Creative Omni also gives users a great level of flexibility in how they listen to their music. With the InterConnect app, multiple smart device users can choose to direct their music stream to a number of Omni speakers placed around the home, or broadcast their music to all speakers simultaneously; which is great for a dinner party, or for playing ambient music all throughout the home."
When it comes to audio performance, the Creative Omni delivers impressive room-filling sound with its two in-house tuned 1.5" Neodymium driver plus two built-in passive radiators that deliver surprisingly deep bass. These four speaker drivers combined deliver full-bodied sound despite its compact size. The speaker allows for two placement options: vertically for focused audio, or horizontally for wider stereo.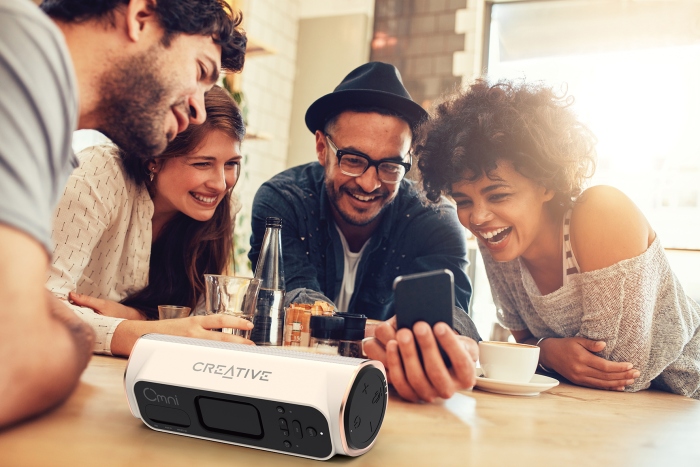 Bluetooth® and Splashproof for On-The-Go Music Portability
If users chose to use the Creative Omni on the go, the speakers also support Bluetooth wireless connectivity for ultra-portability, and it is even splashproof-rated at IPX4. Creative Omni comes in two colors bold black and pure white.
Specifications
Dimensions (L x W x H)
71.1 x 200.8 x 68.5 mm /
2.78 x 7.9 x 2.7 inches
Connectivity
Wi-Fi (802.11 b/g/n)
Bluetooth 4.2
Aux-in
Micro SD card
Battery Life
8 hours (Bluetooth)
Bluetooth Audio Codecs
SBC
Wi-Fi / Streaming Codecs
MP3, WMA, WAV, ALAC, FLAC, APE and OGG
MicroSD Player Codecs
MP3, WMA, WAV, FLAC
Charging Interface
USB Micro-B, 5V 850mA
Weatherproof Rating
IPX4
Drivers
2 x 1.5" Neodymium drivers, 2 x passive radiators
Software
Sound Blaster InterConnect app (iOS/Android)
Other Feature-Rich Bluetooth Speakers Showcased at IFA 2017
Creative will also showcase a full range of feature packed Bluetooth speakers:
Creative Halo - Powerful portable Bluetooth speaker with light show
Creative Chrono - Powerful Bluetooth speaker with radio alarm clock
Creative iRoar Go - The intelligent 5-driver splashproof portable Bluetooth speaker with SuperWide technology
Creative MUVO™ 2 and Creative MUVO 2c (now with additional new vibrant colours) - Powerful splashproof Bluetooth speakers that deliver impressive audio with deep bass and supports Stereo Wireless Link
To experience the Creative Omni and other Creative Bluetooth speakers, visit Booth No. 208, Hall 3.2 at IFA 2017 from 1 - 6 September 2017. To find out more about these products, visit Creative.com.
Pricing and Availability
Creative Omni will be available at Creative.com end-October 2017 and priced at USD129.99.
For in-store availability, please refer to local authorized dealers.
For more information about Creative Omni, visit Creative.com.
About Creative
Creative is a worldwide leader in digital entertainment products. Famous for its Sound Blaster® sound cards and for launching the multimedia revolution, Creative is now driving digital entertainment with cutting-edge audio solutions which include premium wireless speakers, wireless headphones, and powerful audiophile-grade amplifiers and digital audio converters. Today, Creative re-invents the Sound Blaster, which has a user base of over 400 million, with its ground-breaking Sound Blaster Roar and Sound Blaster X7 that aim at the new mobile networked generation by bridging the worlds of the computer, smartphones, and tablets. Creative's proprietary technologies, innovative hardware, applications and services leverage the Internet, enabling consumers to experience high-quality digital entertainment - anytime, anywhere.
# # #
This announcement relates to products launched in Asia Pacific. Availability is subject to change without notice and may differ elsewhere in the world according to local factors and requirements. Creative, the Creative logo, and Sound Blaster are trademarks or registered trademarks of Creative Technology Ltd in the United States and/or other countries. All rights reserved. All other trademarks are the property of their respective owners.
CONTACT INFORMATION