SINGAPORE - Creative Technology Ltd today announced that its Award-Winning Under-Monitor Sound System, the Sound BlasterX Katana, now supports USB audio connectivity with all Sony PS4 console variants.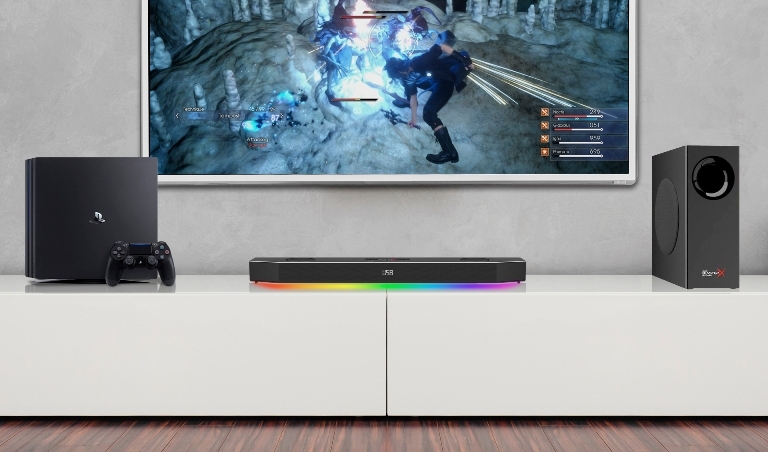 The updated support allows PS4 users to enjoy cinematic audio performance via USB delivered by the Katana for all their gaming content, including popular titles such as Uncharted: The Lost Legacy and Horizon: Zero Dawn, as well as highly anticipated upcoming titles such as Star Wars Battlefront 2, Call of Duty WWII, NBA 2K18 and Destiny 2.
On top of that, users will enjoy an enhanced in-game communication experience that allows them to enjoy a full suite of noise-reduction and voice morphing technologies made possible by Katana's built-in advanced Sound Blaster processor. Previously, Katana users could only connect to their PS4 via optical connection with a separate mic connection to the PS4's controller - all without the benefit of noise reduction and voice morphing enhancements. Also, users can look forward to accessing these technologies on-the-fly while Katana is connected to a PS4, from the convenience of an iOS or Android smartphone or tablet, with an updated version of the Sound Blaster Connect App - which is slated to be released by end-October 2017 on the App Store and Google Play.
USB audio support is also particularly convenient for users of the latest Sony PS4 Slim console to enjoy digital audio. With USB audio support, PS4 Slim users will not have to purchase a separate optical-out adapter to enjoy digital audio through the Katana.
For more information about the Sound BlasterX Katana, the entire Sound BlasterX Pro-Gaming series, visit BlasterX.com.
About Creative
Creative is a worldwide leader in digital entertainment products. Famous for its Sound Blaster® sound cards and for launching the multimedia revolution, Creative is now driving digital entertainment with cutting-edge audio solutions which include premium wireless speakers, wireless headphones, and powerful audiophile-grade amplifiers and digital audio converters. Today, Creative re-invents the Sound Blaster, which has a user base of over 400 million, with its ground-breaking Sound Blaster Roar and Sound Blaster X7 that aim at the new mobile networked generation by bridging the worlds of the computer, smartphones, and tablets. Creative's proprietary technologies, innovative hardware, applications and services leverage the Internet, enabling consumers to experience high-quality digital entertainment - anytime, anywhere.
# # #
This announcement relates to products launched in Asia Pacific. Availability is subject to change without notice and may differ elsewhere in the world according to local factors and requirements. Creative, the Creative logo, Sound Blaster and the BlasterX logo are trademarks or registered trademarks of Creative Technology Ltd in the United States and/or other countries. Dolby and the double-D symbol are trademarks of Dolby Laboratories. The Bluetooth® word mark and logo are registered trademarks owned by Bluetooth SIG, Inc. and any use of such marks by Creative Technology Ltd is under license. All rights reserved. All other trademarks are the property of their respective owners.
CONTACT INFORMATION