SINGAPORE - 28 September 2017 - Creative Technology Ltd announced today that the groundbreaking X-Fi® Sonic Carrier™ had won an AVS Forum Best of CEDIA 2017 award. The AVS Forum is the world's largest AV-enthusiast forum site.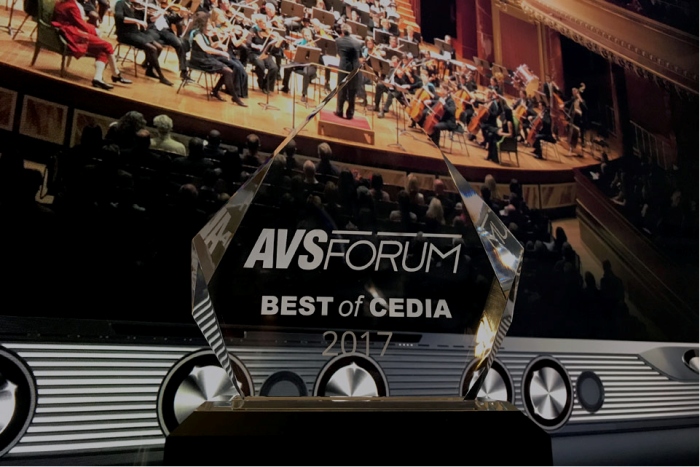 Sonic Carrier was showcased at CEDIA 2017 held at the San Diego Convention Centre. The occasion brought together more than 20,000 home tech pros and 500+ exhibitors to the leading event in smart and home technology. Showcased were new products, breakthrough innovations in home tech integration organized by CEDIA, the leading authority in the home technology industry.
Many were blown away by the sheer power, fidelity, and 3D immersive cinematic audio delivered by the Sonic Carrier - even in a harsh audio environment like that at the convention showground.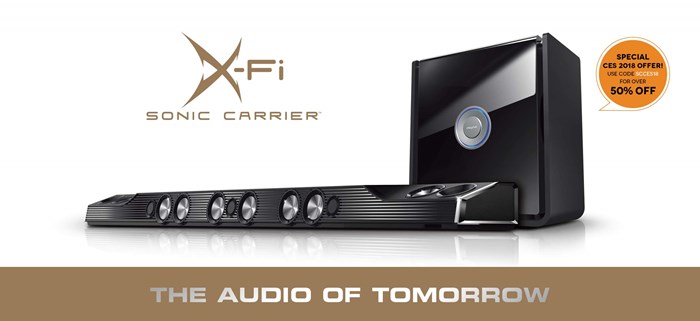 One of the participants who dropped by unannounced to the Creative booth was Mark Henninger, Senior Editor of the AVS Forum - the go-to forum for members of the professional audio community. Sonic Carrier impressed him so much that it won an AVS Forum Best of CEDIA 2017 award.
Here are excerpts from his review of the Sonic Carrier:
"If somebody asks me to name the best soundbar I've ever heard, I will no longer have any reason to hesitate. I'll simply say, 'Without any question, it's the X-Fi Sonic Carrier from Creative; you know, the PC sound card company!' I might even raise an eyebrow right after I say that, for effect. And I'm sure the result will be a quizzical look, but I'd expect that from anyone who has not experienced what was in some ways the most impressive demonstration of psychoacoustics at the show."
"Bravely, Creative showed me how the SuperWide X-Fi processing made a YouTube trailer sound surprisingly immersive and expansive. I noted that I thought the effect was so good, that I would likely never turn it off. The quality of the holographic surround-sound the Creative X-Fi Sonic Carrier puts out is something I have not heard before from any soundbar. Oh, and the subwoofer. Wow."
"With no walls and no ceiling, just a noisy open convention center, the X-Fi Sonic Carrier still created a 3D immersive audio experience. For real. I challenge anyone who ever encounters a similar demo to take it and tell me otherwise. My mind was completely blown, Creative has delivered sonic holography in a 2-piece solution so advanced... I love to get a taste of the future, and this thing is undeniably futuristic."
For the full review, visit: www.avsforum.com/creative-x-fi-sonic-carrier-soundbar-demo-cedia-2017/
On the Best of CEDIA 2017 Awards page, the AVS Forum said, "Mark Henninger was floored by this soundbar from a PC and gaming-products company. In fact, he unequivocally calls it the best soundbar he's ever heard, period."
To read more, visit: www.avsforum.com/avs-forum-best-of-cedia-2017-awards/
"To say that we were surprised by the award is an understatement. We're deeply honored that the Sonic Carrier was acknowledged and won this Best of CEDIA 2017 award, especially since virtually all the big names were there. We were ecstatic when Mark said that it was unequivocally the best soundbar he's ever heard. It feels like winning an Oscar the very first time you're there. Sonic Carrier has truly been a labor of love and passion for us, and we look forward to bringing this amazing audio experience soon to homes everywhere," said Sim Wong Hoo, CEO of Creative and creator of the Sonic Carrier.
About X-Fi Sonic Carrier
The Sonic Carrier which personifies the Audio of Tomorrow, is a powerful home entertainment system with Dolby Atmos®, Creative's SuperWide X-Fi™ (likened to stereo on steroids), 17 drivers in a 15.2 configuration, and 1000W RMS power, is set to revolutionize how users experience their audio with the ultimate immersive cinematic sound experience that reviewers claim is akin to a real cinema. The Sonic Carrier works out-of-the-box delivers a fuss-free powerful audio solution, giving the added edge over more complex solutions with multiple discrete speakers and messy wiring. To find out more about the Sonic Carrier, visit soniccarrier.com.
About Creative
Creative is a worldwide leader in digital entertainment products. Famous for its Sound Blaster® sound cards and for launching the multimedia revolution, Creative drives digital entertainment with cutting-edge audio solutions which include premium wireless speakers, wireless headphones, powerful audiophile-grade amplifiers and digital audio converters, and next-generation home-theatre systems. Creative continues to re-invent the Sound Blaster, which has a user base of over 400 million, with its ground-breaking Sound Blaster Roar and Sound Blaster X7 that aim at the new mobile networked generation by bridging the worlds of the computer, smartphones, and tablets.
Beyond Sound Blaster, Creative has also unveiled X-Fi Sonic Carrier: a brand new concept in hi-res audio and video delivery for home entertainment. This technology powerhouse hosts, bridges and enhances a multitude of state-of-the-art technologies and entertainment platforms, and personifies the Audio of Tomorrow.
# # #
This announcement relates to products launched in Asia Pacific. Availability is subject to change without notice and may differ elsewhere in the world according to local factors and requirements. Creative, the Creative logo, Sound Blaster, X-Fi, the X-Fi logo, Sonic Carrier, and SuperWide X-Fi are trademarks or registered trademarks of Creative Technology Ltd in the United States and/or other countries. All rights reserved. Dolby and Dolby Atmos are registered trademarks of Dolby Laboratories. All other trademarks are the property of their respective owners.
CONTACT INFORMATION