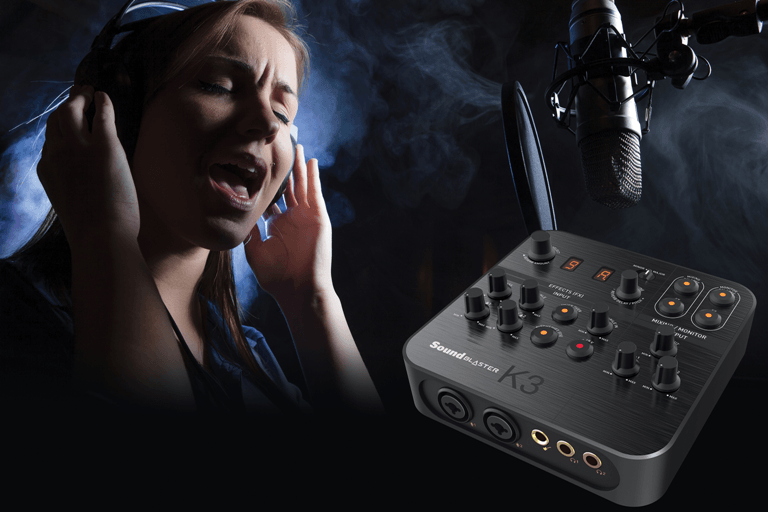 Sound Blaster K3
Portable Book-Sized Mixer Board
SINGAPORE - 5 October 2017 - Creative Technology Ltd announced today that it has begun collaborating with popular local streaming musicians and content creators to enable them to easily broadcast content on mobile devices or PC using the Sound Blaster K3: a portable book-sized mixer board enabling mobility for today's new generation of online influencers.
The Sound Blaster K3 was developed in part by a number of broadcasters, singers, musicians, and audio engineers. Their feedback has allowed us to understand various recording needs, and has resulted in a practical, professional recording interface that boasts incredible connectivity options.
"In today's interconnected world, the way we create, share, and consume music and entertainment has transformed dramatically. It used to be that musicians and budding musicians were limited to being physically present to perform music, or getting airplay on traditional broadcast mediums like radio or TV. But today, you can reach the world from your room through live streaming. The Sound Blaster K3 will up your game and enable you to sound the best you can be for your audience. It contains top-notch componentry, convenient controls and versatile connectivity to ensure your broadcasts are of the best possible quality so that your music and vocals shine through," said Low Long Chye, General Manager of Creative.
Creative is partnering with two popular live streaming platforms in Singapore, BeLive and Loops, to introduce the Sound Blaster K3 to their community. Creative collaborated with BeLive in the "Busking Robin" series which invites singers to play games, chat and sing according to different themes every week. The Sound Blaster K3 was also featured on "Beyond the Talents", a talent-incubation broadcast program on Loops. The Sound Blaster K3 was intrinsic in enhancing the audio quality of these two programs as part of its live streaming broadcast setup. Creative is also working with multiple well-known local streamers to inspire other upcoming musicians and streamers about the possibilities they can have with the Sound Blaster K3 in their own broadcast and content creation.
"Previously, posting a music video was a painful process - I had to shoot the video with my DSLR, and then record my singing separately using a professional recording device because the built-in mic on cameras and phones isn't good enough, before finally combining both video and audio recordings into one and editing them on my computer to make it perfect. Ever since I started using Sound Blaster K3, recording live song covers has been a breeze! Now, I just plug in my mic, instrument and phone and I'm good to go live," said Yap Yoke Ling aka "Yokez", Singapore singer-songwriter.
About Sound Blaster K3
The Sound Blaster K3 is an external sound mixer module with hardware audio processing such as reverb and autotune. It boasts multiple connectivity inputs, supports 48V phantom powered condenser microphones and features individual input/output gain control. Practical and user-friendly, the Sound Blaster K3 is perfect for streamers and musicians alike.
6 Modes of Operation
The Sound Blaster K3 supports up to 6 different recording scenarios, including music recording, karaoke recording and DJ hosting! Features and voice effects can be triggered and combined to produce the ideal recording quality needed for your individual use case scenario.
Plug-and-Play Connectivity for PC, Mac, Phones and Tablets
With no driver installation necessary, connectivity to PCs and Macs is incredibly simple via USB. The Sound Blaster K3 can also be connected using a 4-pole 3.5mm audio jack, giving users full control when using streaming and recording apps on their mobile phones or tablets.
Crystal Clear Recording and Playback
Audio quality is of the utmost priority when recording music or streaming video. The Sound Blaster K3 features a built-in high definition processor that enables it to record crisp and crystal clear audio. Users can start with basic equipment and eventually upgrade to professional headphones and microphones. K3 also comes with two separate headphone monitoring channels.
Audio Effects Processing in Real-Time
The Sound Blaster K3's powerful built-in audio processor allows users access to real-time audio effects, including reverb, pitch shift and autotune. These sounds are also available even when connected to mobile devices.
To find out more about Sound Blaster K3, visit sg.creative.com/k3.
About Creative
Creative is a worldwide leader in digital entertainment products. Famous for its Sound Blaster® sound cards and for launching the multimedia revolution, Creative drives digital entertainment with cutting-edge audio solutions which include premium wireless speakers, wireless headphones, powerful audiophile-grade amplifiers and digital audio converters, and next-generation home-theatre systems. Creative continues to re-invent the Sound Blaster, which has a user base of over 400 million, with its ground-breaking Sound Blaster Roar and Sound Blaster X7 that aim at the new mobile networked generation by bridging the worlds of the computer, smartphones, and tablets.
Beyond Sound Blaster, Creative has also unveiled X-Fi Sonic Carrier: a brand new concept in hi-res audio and video delivery for home entertainment. This technology powerhouse hosts, bridges and enhances a multitude of state-of-the-art technologies and entertainment platforms, and personifies the Audio of Tomorrow.
# # #
This announcement relates to products launched in Asia Pacific. Availability is subject to change without notice and may differ elsewhere in the world according to local factors and requirements. Creative, the Creative logo, and Sound Blaster are trademarks or registered trademarks of Creative Technology Ltd in the United States and/or other countries. All rights reserved. All other trademarks are the property of their respective owners.
CONTACT INFORMATION