SINGAPORE - Creative Technology Ltd today announced that the latest season of its ongoing community gaming initiative - Sound BlasterX Underground - would showcase Female DotA2. Creative is proud to sponsor Sound BlasterX Underground Female DotA2 leagues taking place across North America, Europe, and Southeast Asia. Previous seasons of Sound BlasterX Underground featured Blizzards' Hearthstone and Valve's DotA.
This series of community gaming tournaments is designed to allow gamers a platform to enjoy gaming with their friends at a local grassroots level. The Sound BlasterX Underground consists of tournaments where both solo and team based eSports titles will be held.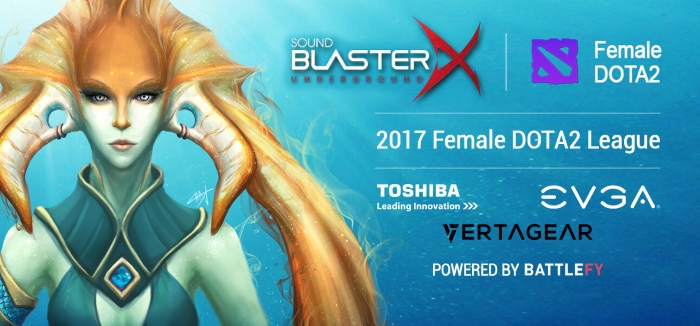 "As gamers ourselves we realize that when you strip it all down, the reason gaming is such a pull for all of us, besides the amazing graphics and immersive audio of course, is the opportunity it offers us to have fun interacting with our friends. That's the reason we've put together Sound BlasterX Underground," said Ryan Schlieper, Brand Manager for Sound BlasterX at Creative.
"With Sound BlasterX Underground gamers everywhere will be able to experience impressive game titles like Hearthstone and DotA2 with their friends, and stand a chance to win loads of swag, right where they live. And now with the latest instalment of Sound BlasterX Underground, we are excited to be working with Female DotA2 League, whose mission is to provide a supportive platform for female teams to meet and play against each other. Female DotA2 team recruitments are now open, so go ahead and sign-up today!"
To register for the Sound BlasterX Underground 2017 Female DotA2 League, visit battlefy.com/sound-blaster-x
About Creative
Creative is a worldwide leader in digital entertainment products. Famous for its Sound Blaster® sound cards and for launching the multimedia revolution, Creative drives digital entertainment with cutting-edge audio solutions which include premium wireless speakers, wireless headphones, powerful audiophile-grade amplifiers and digital audio converters, and next-generation home-theatre systems. Creative continues to re-invent the Sound Blaster, which has a user base of over 400 million, with its ground-breaking Sound Blaster Roar and Sound Blaster X7 that aim at the new mobile networked generation by bridging the worlds of the computer, smartphones, and tablets.
Beyond Sound Blaster, Creative has also unveiled X-Fi Sonic Carrier: a brand new concept in hi-res audio and video delivery for home entertainment. This technology powerhouse hosts, bridges and enhances a multitude of state-of-the-art technologies and entertainment platforms, and personifies the Audio of Tomorrow.
# # #
Creative, the Creative logo, Sound Blaster and the BlasterX logo are trademarks or registered trademarks of Creative Technology Ltd in the United States and/or other countries. All rights reserved. All other trademarks are the property of their respective owners.
CONTACT INFORMATION