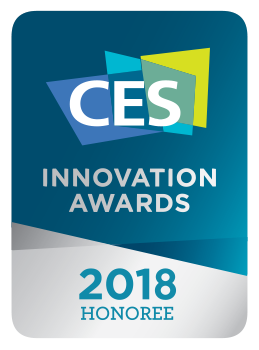 NEW YORK, NY - 9 November 2017 - Creative Technology Ltd today announced that it has been named CES 2018 Innovation Awards Honoree for Sound BlasterX AE-5 in two categories - Computer Hardware and Components, as well as Computer Accessories.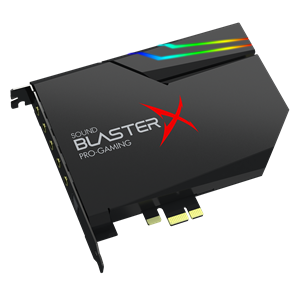 Sound BlasterX AE-5
Designed to deliver the ultimate audio performance with the full force of a 122dB 32-bit/384kHz ESS Sabre™ DAC, Sound BlasterX AE-5 is the first of its kind to feature Xamp, a custom-designed discrete headphone amp, and a built-in RGB controller with fully customizable Aurora Reactive lighting system - that even works with the Aurora Reactive SDK for developers to freely customize, animate and synchronize its lighting behavior together with other Sound BlasterX products.
Products entered in this prestigious program are judged by a preeminent panel of independent industrial designers, engineers, and members of the trade media to honor outstanding design and engineering in cutting edge consumer electronics products across 28 product categories.
Entries are evaluated on their engineering, aesthetic and design qualities, intended use/function and user value, unique/novel features present and how the design and innovation of the product directly compares to other products in the marketplace. Products chosen as CES Innovation Awards Honorees reflect innovative design and engineering in some of the most cutting edge tech products and services in the market. CES 2018 Innovation Honoree products are featured on CES.tech/Innovation.
The Sound BlasterX AE-5 sound card will be showcased at CES 2018 - the world's largest consumer electronics show - which runs January 9-12, 2018, in Las Vegas, Nevada at The Venetian, Level 2, Veronese 2504. For more information on Sound BlasterX AE-5, visit creative.com/blasterx-ae5.
About CES Innovation Awards
The prestigious CES Innovation Awards are sponsored by the Consumer Technology Association (CTA)™, the owner and producer of CES 2018, the global gathering place for all who thrive on the business of consumer technologies, and have been recognizing achievements in product design and engineering since 1976.
About Creative
Creative is a worldwide leader in digital entertainment products. Famous for its Sound Blaster® sound cards and for launching the multimedia revolution, Creative drives digital entertainment with cutting-edge audio solutions which include premium wireless speakers, wireless headphones, powerful audiophile-grade amplifiers and digital audio converters, and next-generation home-theatre systems. Creative continues to re-invent the Sound Blaster, which has a user base of over 400 million, with its ground-breaking Sound Blaster Roar and Sound Blaster X7 that aim at the new mobile networked generation by bridging the worlds of the computer, smartphones, and tablets.
Beyond Sound Blaster, Creative has also unveiled X-Fi® Sonic Carrier: a brand new concept in hi-res audio and video delivery for home entertainment. This technology powerhouse hosts, bridges and enhances a multitude of state-of- the-art technologies and entertainment platforms, and personifies the Audio of Tomorrow.
# # #
This announcement relates to products launched in Asia Pacific. Availability is subject to change without notice and may differ elsewhere in the world according to local factors and requirements. Creative, the Creative logo, Sound Blaster, and X-Fi are trademarks or registered trademarks of Creative Technology Ltd in the United States and/or other countries. All rights reserved. All other trademarks are the property of their respective owners. The CES Innovation Awards are based upon descriptive materials submitted to the judges. CTA did not verify the accuracy of any submission or of any claims made and did not test the item to which the award was given.
CONTACT INFORMATION