LAS VEGAS - 8 January 2018 - Creative Technology Ltd today announced at CES 2018 that it would be showcasing a bevy of upcoming and newly launched products. There will be sneak previews of upcoming smart home Alexa-enabled speakers like the Creative Nova, Creative Muvo Genie, and Creative Halo Genie. The showcase will also feature the newly launched Creative Aurvana Trio audiophile-grade in-ear headphones and the Sound BlasterX AE-5 sound card, which was honored in both 'Computer Hardware and Components' and 'Computer Accessories' categories of CES 2018 Innovation Awards.
CES 2018 Product Showcase Highlights
PREVIEW: Creative Nova - Portable WiFi Multi-Room Smart Speaker


Creative Nova provides a gateway to the world of sensory inspiration that is key to us finding and maintaining our body equilibrium and wellbeing. Creative Nova is the world's first device to integrate all the goodness of a light and sound spa and a powerful 5-driver bi-amplified WiFi/Bluetooth® high-performance multi-room speaker system in a portable elegant form factor that fits beautifully into any home or outdoor living space; and it is also includes an Amazon® Alexa-enabled voice assistant with far-field voice recognition.
PREVIEW: Creative Muvo Genie - Smart Portable Splashproof Bluetooth Speaker


Introducing the all-new Creative Muvo Genie - now with Amazon Alexa support. Featuring a splashproof outer-shell, the compact Muvo Genie lets users enjoy music through all of life's adventures. Small enough to fit into just about any bag, users can play their music out loud anywhere, in wet weather, or the wildest pool party, or when off the beaten track. And now with Muvo Genie's Alexa support, when the speaker is Bluetooth-connected to a phone, users will also be able to access a whole world of content, services and smart home controls - just with their voice!

PREVIEW: Creative Halo Genie - Smart Portable Bluetooth Light Show Speaker
Creative Halo Genie is a 16 million color lightshow Bluetooth speaker with Amazon Alexa support. This means that on-top of an amazing audio and lightshow experience, the Halo Genie will provide users access to a whole universe of online music content, services, and smart home controls using their voice when connected to a phone via Bluetooth! Under the hood, Halo Genie is designed with 2 full-range drivers mounted into a large reflex chamber, and together with a passive woofer, delivers surprisingly loud sound with enhanced bass.
NEW: Creative Aurvana Trio - Audiophile-Grade Hybrid Triple Driver In-Ears


The Aurvana Trio features a triple driver array - two balanced armatures consisting of a super tweeter and a mid-range driver deliver detailed high-frequency playback and natural vocals, while a dynamic 10mm Bio-cellulose driver pumps out beautifully accurate and powerful bass. This unique hybrid design achieves an optimal size and accurate audio performance phenomenon that is not reproduced in conventional in-ears. Coupled with Creative's audio expertise, the Aurvana Trio is capable of delivering incredible clarity across a wider spectrum, regardless of trebles, vocals or bass - resulting in a breathtakingly accurate and detailed sound stage.
CES 2018 HONOREE: Sound BlasterX AE-5 - Audiophile-Grade Gaming DAC with World's Best PC Headphone Amp and World's First Integrated RGB Controller


Honored in both 'Computer Hardware and Components' and 'Computer Accessories' categories, the Sound BlasterX AE-5 is designed to deliver the ultimate audio performance with the full force of a 122dB 32-bit/384kHz ESS Sabre™ DAC. It is the first of its kind to feature Xamp, a custom-designed 600Ω discrete headphone amp in a dual-amp design that amplifies each audio channel individually to deliver pristine, uncompromised audio to sensitive in-ears and studio-grade headphones from 16Ω to 600Ω. The AE-5 is also the first sound card with a built-in RGB controller with fully customizable Aurora Reactive lighting system to allow gamers the flexibility to build their dream gaming rig - it even works with the Aurora Reactive SDK for developers to freely customize, animate and synchronize its lighting behavior together with other Sound BlasterX products.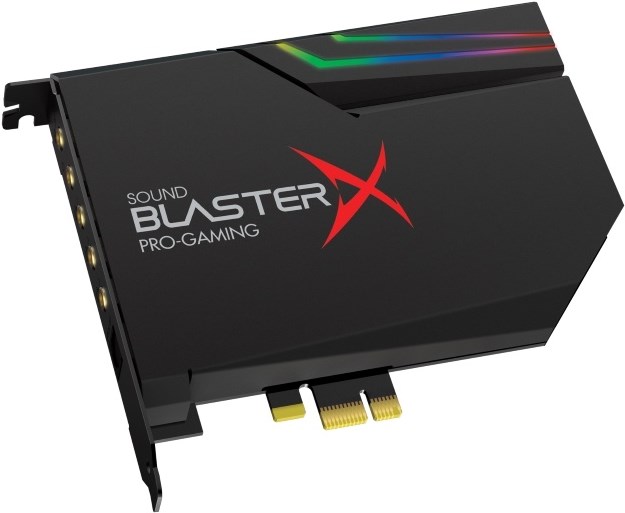 Visit Creative at CES 2018
Visitors are welcome to drop-by the Creative Suite for a demo of these products at CES 2018, The Venetian, Level 2, Veronese 2504, from January 9-12, 2018.
For more information, visit www.creative.com/ces2018.
About Creative
Creative is a worldwide leader in digital entertainment products. Famous for its Sound Blaster® sound cards and for launching the multimedia revolution, Creative drives digital entertainment with cutting-edge audio solutions which include premium wireless speakers, wireless headphones, powerful audiophile-grade amplifiers and digital audio converters, and next-generation home-theatre systems. Creative continues to re-invent the Sound Blaster, which has a user base of over 400 million, with its ground-breaking Sound Blaster Roar and Sound Blaster X7 that aim at the new mobile networked generation by bridging the worlds of the computer, smartphones, and tablets.
Beyond Sound Blaster, Creative has also unveiled X-Fi® Sonic Carrier: a brand new concept in hi-res audio and video delivery for home entertainment. This technology powerhouse hosts, bridges and enhances a multitude of state-of-the-art technologies and entertainment platforms, and personifies the Audio of Tomorrow.
# # #
This announcement relates to products launched in the United States. Availability is subject to change without notice and may differ elsewhere in the world according to local factors and requirements. Creative, the Creative logo, Sound Blaster, the BlasterX logo, X-Fi and Sonic Carrier are trademarks or registered trademarks of Creative Technology Ltd in the United States and/or other countries. All rights reserved. Amazon, Alexa, and all related logos are trademarks of Amazon.com, Inc. or its affiliates. All other trademarks are the property of their respective owners. The CES Innovation Awards are based upon descriptive materials submitted to the judges. CTA did not verify the accuracy of any submission or of any claims made and did not test the item to which the award was given.
CONTACT INFORMATION