LAS VEGAS - 8 January 2018 - Creative Technology Ltd today announced that it would be showcasing the award-winning X-Fi Sonic Carrier at CES 2018. The Sonic Carrier, which has received rave reviews worldwide by industry insiders when it was previewed prior to launch, has now begun shipping in the United States. CES 2018 will be a wonderful opportunity for those wishing to experience this phenomenal audio for themselves.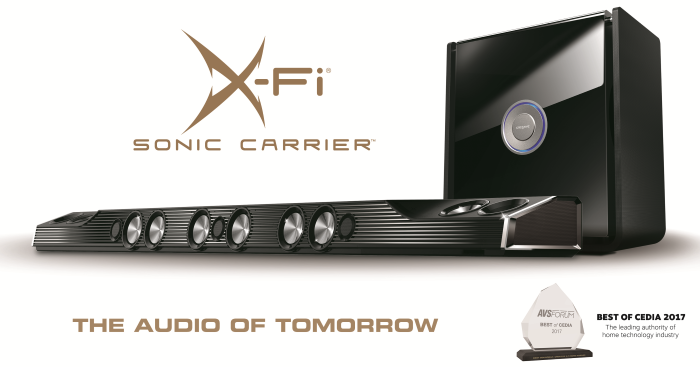 The Sonic Carrier which personifies the Audio of Tomorrow is a powerful home entertainment system with 17 drivers in a 15.2 configuration and 1000W RMS power that works out-of-the-box to deliver a fuss-free powerful audio solution, giving the added edge over more complex solutions with multiple discrete speakers and messy wiring that cost many times more.
Prior to CES 2018, the Sonic Carrier was awarded the Best of CEDIA 2017 Award by AVS Forum, the world's largest AV-enthusiast forum site, where it was dubbed 'soundbar of the gods':
"My mind was completely blownߪ If somebody asks me to name the best soundbar I've ever heard, I will no longer have any reason to hesitate. I'll simply say, 'Without any question, it's the X-Fi Sonic Carrier from Creativeߪ' The quality of the holographic surround-sound the Creative X-Fi Sonic Carrier puts out is something I have not heard before from any soundbar. Oh, and the subwoofer. Wow." - Mark Henninger, Senior Editor, AVS Forum
Here is what other reviewers and industry insiders are saying about the Sonic Carrier:
"My lord, it was incredible. The Sonic Carrier was able to fill Creative's booth on the busy show floor (in an open exhibition hall at E3) with full, rich sound with the aid of the company's proprietary SuperWide X-Fi tech that can give even compressed stereo sources a panoramic-like soundstage. But more impressively, surround sounds like a bird's song or its fluttering wings felt like they were happening behind and above me." - Jeff Grubb, Reporter at GamesBeat, VentureBeat.com
"The demonstration of the Creative Sonic Carrier was a genuine revelation, the likes of which I haven't experienced in ages. It excelled as both a room-filling home theatre system and as an impressive implementation of Dolby Atmos® technology. Hard to believe that it was just the one box, plus subs." - Chris Chiarella, noted audio/video journalist
Experience Sonic Holography at CES 2018
Visitors will be able to experience the phenomenal audio of X-Fi Sonic Carrier for themselves when they visit the Creative Suite at CES 2018, The Venetian, Level 2, Bassano 2701 - 2703 from January 9-12, 2018.
Also Experience Headphone Audio Holography at the Creative Suite
Be the first in the world to witness the new groundbreaking Super X-Fi® technology that recreates a speaker listening experience and reproduces it for headphones - it's like the magic of 3D holography, but in audio, for headphones. Refer to a separate press release on Super X-Fi or check out sxfi.com for more information.
CES 2018 Exclusives!
Creative will be offering the Sonic Carrier at an exclusive CES 2018 Introductory Offer to all visitors. To find out more about the Sonic Carrier and its exclusive CES 2018 offers, visit soniccarrier.com/ces2018.
Attendees of the Sonic Carrier and Super X-Fi demos will also be given a pair of FREE audio holography-enabled headphones.
About Creative
Creative is a worldwide leader in digital entertainment products. Famous for its Sound Blaster® sound cards and for launching the multimedia revolution, Creative drives digital entertainment with cutting-edge audio solutions which include premium wireless speakers, wireless headphones, powerful audiophile-grade amplifiers and digital audio converters, and next-generation home-theatre systems. Creative continues to re-invent the Sound Blaster, which has a user base of over 400 million, with its ground-breaking Sound Blaster Roar and Sound Blaster X7 that aim at the new mobile networked generation by bridging the worlds of the computer, smartphones, and tablets.
Beyond Sound Blaster, Creative has also unveiled X-Fi® Sonic Carrier: a brand new concept in hi-res audio and video delivery for home entertainment. This technology powerhouse hosts, bridges and enhances a multitude of state-of-the-art technologies and entertainment platforms, and personifies the Audio of Tomorrow.
# # #
This announcement relates to products launched in the United States. Availability is subject to change without notice and may differ elsewhere in the world according to local factors and requirements. Creative, the Creative logo, Sound Blaster, X-Fi, the X-Fi logo, Sonic Carrier, SuperWide X-Fi, and Super X-Fi are trademarks or registered trademarks of Creative Technology Ltd in the United States and/or other countries. All rights reserved. Dolby and Dolby Atmos are registered trademarks of Dolby Laboratories. All other trademarks are the property of their respective owners.
CONTACT INFORMATION