SINGAPORE - 4 September 2018 - Creative today announced that it had bagged multiple awards at the 6th Annual WIPO-IPOS IP Awards with its milestone technology, Super X-Fi. The WIPO-IPOS IP Awards honors the best and most active IP champions. This is the most prestigious award that recognizes and celebrates enterprises for their excellence in innovation, transformation and commercialization through intellectual property.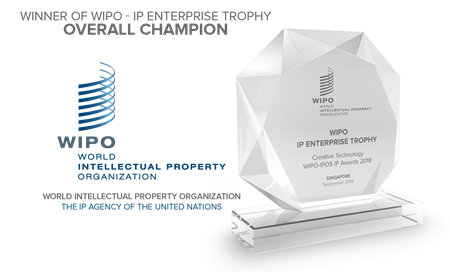 Creative, with its Super X-Fi Headphone Holography technology, won the WIPO IP Enterprise Trophy for the most outstanding overall IP champion. The WIPO IP Enterprise Trophy recognizes an organization that has made imaginative use of IP in their business activities. WIPO is the World Intellectual Property Organization - the IP agency of the United Nations, headquartered in Geneva, Switzerland.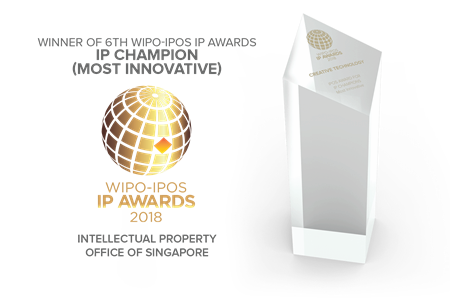 The IPOS Award for IP Champions - Most Innovative is awarded to Creative for creating new products, services, or solutions that others have not thought of, specifically for its Super X-Fi technology that could be a game-changer for the headphone industry. IPOS is the Intellectual Property Office of Singapore.
"It is commendable for a large company like Creative to keep on innovating and even pouring 20 years of research and development into creating one audio marvel. The Super X-Fi is really an outstanding experience," said the WIPO-IPOS IP Awards panel.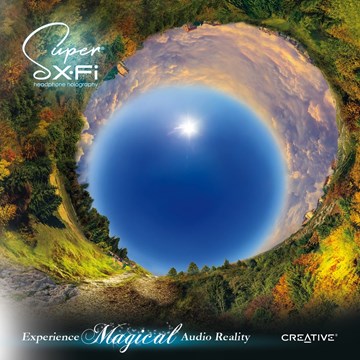 "Super X-Fi has been a dream of mine since the 1990s. A dream that many thought was impossible. However, even after many unsuccessful attempts, I just refused to give up. It has taken over twenty years of engineering sweat, tears and grit to realize this feat. And now to see how many have been blown away by its magical performance is something truly fulfilling for me on a personal level. I've never been so excited before in my whole life. I am truly ecstatic about the awards, but the honor really belongs to the whole Super X-Fi team," said Sim Wong Hoo, CEO of Creative.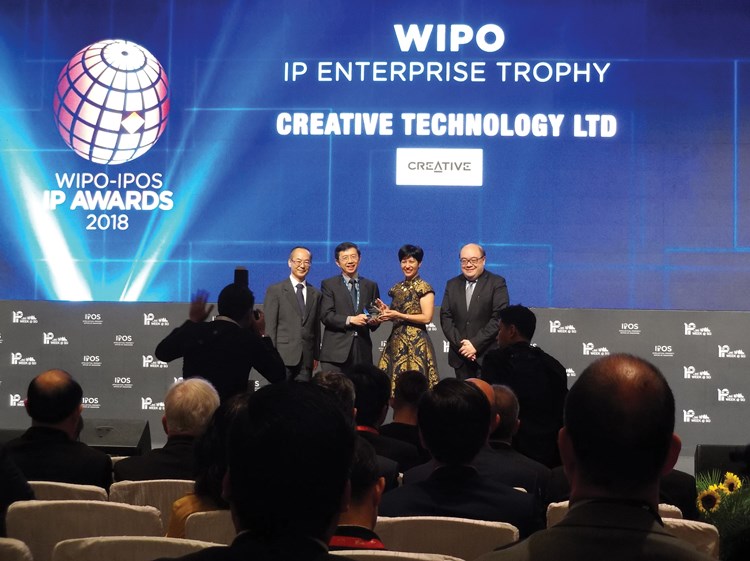 Ms Indranee Rajah, Second Minister for Finance and Second Minister for
Education presents the WIPO Enterprise Trophy to Sim Wong Hoo
"Super X-Fi is a new renaissance in headphone audio; a technology where the science of sound brings the human listening experience with headphones to a whole enlightened level of realism, so amazing, it'll be akin to magic."
"Super X-Fi is computational audio so complex and multi-dimensional - and on top of that, having to cater for every single person's unique profile adds a whole new level of uncertainty - that to solve this is like capturing lightning in a bottle. We believe we have finally found the holy grail of headphone audio, making headphones sound as good as the real thing. These awards will help motivate the team to reach for greater heights. In fact, we are well on our way to the next generation of Super X-Fi. It will be so different, that it will be yet another leap in the experience," said Lee Teck Chee, inventor of Super X-Fi.
HOW SUPER X-FI WORKS
Imagine capturing the listening experience of a high-end multi-speaker system in a theater and actually re-creating that same expansive experience - the same depth, detail, soundstage, three dimensionality, immersiveness, realism and more. It's like the magic of holography, but in audio - for the headphones.
Leveraging on leading-edge precision technology that maps the distinct acoustics of an audio system projecting sound to the human ear in three-dimensional space, the Super X-Fi holographic audio experience intelligently translates that complex information into an identical breathtaking listening experience for the headphones.
In addition, everybody hears sound differently in the real world, depending on the shape of one's ears and structure of the head. Super X-Fi further uses Artificial Intelligence to map the individual's ear shape and head profile, then utilizes a computationally complex algorithm to transform and custom tailor the audio to each individual, so that it sounds perfect to each and every one, and like what they hear in the real world.
A series of Super X-Fi hardware solutions including a dongle and headphones is targeted to be shipped soon. To find out more, register your interest at www.sxfi.com.
About Creative
Creative is a worldwide leader in digital entertainment products. Famous for its Sound Blaster ® sound cards and for launching the multimedia revolution, Creative drives digital entertainment with cutting-edge audio solutions which include premium wireless speakers, wireless headphones, powerful audiophile-grade amplifiers and digital audio converters, and next-generation home-theatre systems. Creative continues to re-invent the Sound Blaster, which has a user base of over 400 million, with its ground-breaking Sound Blaster Roar and Sound Blaster X7 that aim at the new mobile networked generation by bridging the worlds of the computer, smartphones, and tablets.
Beyond Sound Blaster, Creative has also unveiled X-Fi Sonic Carrier: a brand-new concept in hi-res audio and video delivery for home entertainment. This technology powerhouse hosts, bridges and enhances a multitude of state-of-the-art technologies and entertainment platforms, and personifies the Audio of Tomorrow.
# # #
This announcement relates to products launched in Asia. Availability is subject to change without notice and may differ elsewhere in the world according to local factors and requirements. Creative, the Creative logo, Super X-Fi, X-Fi, Sonic Carrier and Sound Blaster are trademarks or registered trademarks of Creative Technology Ltd in the United States and/or other countries. All rights reserved. All other trademarks are the property of their respective owners.
CONTACT INFORMATION