SINGAPORE - 10 October 2018 - Creative Technology Ltd announced today the release of the Sound BlasterX H6 gaming headset, which elevates both gaming and audio experiences to the next level.
Featuring an all-new design, the Sound BlasterX H6 packs massive performance with a plethora of enhanced features - including pro-tuned 50mm Neodymium drivers, breathable memory foam fabric mesh pads, detachable noise-reducing ClearComms microphone technology and RGB lighting.
The All-New Sound BlasterX H6 Gaming Headset
"We design our audio solutions through a simple approach, that is to create the best user experience both within and beyond the ears. And with the Sound BlasterX H6, which features improvements across the board combined with usage versatility across PC, Xbox, PS4 and Nintendo Switch, we believe we have a winner in its class," said Low Long Chye, General Manager at Creative.
Immersive Audio Performance
The Sound BlasterX H6 provides an all-encompassing audio experience, with professionally-tuned hardware EQ profiles for games, movies and music. With the Sound Blaster Connect software on PC, users can further enhance and customize the audio on the Sound BlasterX H6 to suit their needs. The importance of in-game communication is also highlighted with the introduction of the newly designed ClearComms microphone providing crystal clear voice transmission with noise cancellation. These features work seamlessly with the Sound BlasterX H6's pro-tuned 50mm Neodymium drivers across multiple platforms via analog or USB audio ranging from PC to PS4, Nintendo Switch and Xbox One.
Exceptional Comfort, Incredible Experience
Built specifically with durability and comfort in mind, the Sound BlasterX H6 has an optimal clamping force of less than 600grams, offering a perfect balance between comfort and good seal for accurate bass. Likewise, the headset is fitted with breathable and replaceable high-density memory foam mesh pads to ensure long-lasting comfort. Bundled with a 2-meter USB audio cable for longer mobility range, the Sound BlasterX H6 simply provides the most incredible user experience at a competitive price.
Sound BlasterX H6 Provides Lasting Comfort with Its Breathable and Replaceable Memory Foam Cushions
Infinite Audio and Visual Possibilities
The Sound BlasterX H6 ups the ante in terms of visual enhancements, with its fully customizable RGB lighting system. Through the Sound Blaster Connect Software, users can program up to 16 million colors with varying motions on each ear cup. The software also allows users to tailor their very own listening experience with audio realism and immersive effects. With Ambient Monitoring, one is also able to toggle between focusing on the game and checking in on the environment - simply with the tap of a button.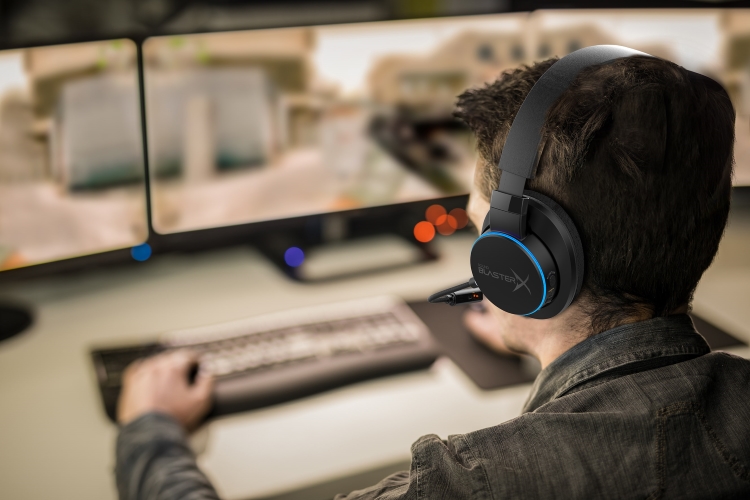 The RGB Reactive Lighting System on Sound BlasterX H6 Offers Countless Visual Possibilities
Features
Pro-tuned 50mm Neodymium Drivers
Full Suite of Sound Blaster Audio Processing Enhancements
Built-in Ambient Monitoring Feature
Breathable and Replaceable High-Density Memory Foam Fabric Mesh Earpads
Detachable Noise-Reducing ClearComms Microphone
On-ear Volume, Microphone and Multifunction Controls
Customizable 16 Million Color RGB Lighting
Compatible with PC, PS4 and Nintendo Switch (USB audio)
Analog input for Xbox One and other devices with 3.5mm line-out
Pricing and Availability
The Sound BlasterX H6 is priced at USD79.99 and are available at Creative.com.
For in-country retail store availability, please refer to authorized dealers.
For more information about the Sound BlasterX H6, visit Creative.com/H6.
About Creative
Creative is a worldwide leader in digital entertainment products. Famous for its Sound Blaster® sound cards and for launching the multimedia revolution, Creative is now driving digital entertainment with cutting-edge audio solutions which include premium wireless speakers, wireless headphones, and powerful audiophile-grade amplifiers and digital audio converters. Today, Creative re-invents the Sound Blaster, which has a user base of over 400 million, with its ground-breaking Sound Blaster Roar and Sound Blaster X7 that aim at the new mobile networked generation by bridging the worlds of the computer, smartphones, and tablets. Creative's proprietary technologies, innovative hardware, applications and services leverage the Internet, enabling consumers to experience high-quality digital entertainment - anytime, anywhere.
# # #
This announcement relates to products launched in Asia Pacific. Availability is subject to change without notice and may differ elsewhere in the world according to local factors and requirements. Creative, the Creative logo, Sound Blaster and the BlasterX logo are trademarks or registered trademarks of Creative Technology Ltd in the United States and/or other countries. All rights reserved. All other trademarks are the property of their respective owners.
CONTACT INFORMATION