SINGAPORE - Creative Technology Ltd today announced it would be showing off, for the first time at a local exhibition, exciting new additions to the Sound BlasterX pro-gaming series at IT Show 2017, Singapore's largest IT, Digital, Mobile and Consumer Electronics Exhibition. Further to Creative's main booth at the IT Show, there is also a Creative Gaming Zone, a focused area for Sound BlasterX products, at the GAMEX pavilion.
The all-new additions comprise of Sound BlasterX Katana Under-Monitor Audio System, the Sound BlasterX Vanguard K08 High-Performance Gaming Keyboard, and the Sound BlasterX Siege M04 Precision Gaming Mouse. The recently launched trio has already garnered rave reviews and awards worldwide:
•
Sound BlasterX Katana
- Hi-Res 24-bit Under-Monitor Audio System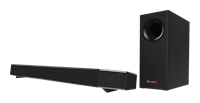 "The Creative Sound BlasterX Katana is as much of a deadly weapon as its namesake. It may be compact and slim, but it gives a stellar performance that's sure to put a smile on anyone who cares about high-end audio performance in their favourite movies, music, games and more!"
- Editor's Choice Award, eTeknix
•
Sound BlasterX Siege M04
- Precision Gaming Mouse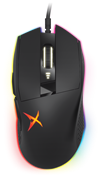 "Gaming mice need to be precise, responsive, and reliable, and the Sound BlasterX Siege M04 is all of these things with the added bonus that it appears to be floating on a rainbow."
- Gold Award, Vortez
•
Sound BlasterX Vanguard K08
- RGB Mechanical Gaming Keyboard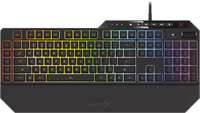 "... easily one of the best keyboards we've seen in a long time. Great build quality, flawless design, and excellent performance throughout."
- Editor's Choice Award, eTeknix
Aurora Reactive Lighting System
The latest Sound BlasterX additions come with the fully customizable Aurora Reactive lighting system featuring a brilliant spectrum of 16.8 million colours inspired by earth's natural phenomenon. This will please gamers who are looking to build a neat gaming and entertainment space with unique displays of light.
Creative will also showcase the current line-up of well-received gaming products which include audio solutions that deliver best-in-class audio:
 •
Sound BlasterX G5
- 7.1 HD Audio External Sound Card and Headphone Amp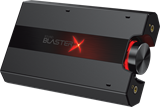 "Powerful, feature-packed and reliable sound processing from one of the most iconic audio brands in the industryߪ for those looking for a versatile audio solution that gives a big sound, despite its compact size, the G5 is certainly the way to go."
- Editor's Choice Award, eTeknix
 •
Sound BlasterX H7 Tournament Edition
- HD 7.1 Surround Gaming Headset with Dual Sound Signature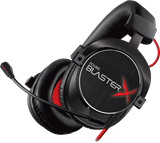 "It can be comfortably worn throughout the whole day at the computer, it feels rock solid, looks good and works with all your devices... Never have I been able to live in my game so much, a big thank you to Creative."
- 10/10, Gamereactor.dk
 •
Sound BlasterX H5 Tournament Edition
- Professional Analog Gaming Headset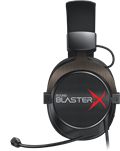 "One of the best headsets we have used in recent times. Quality audio experience, good platform support and impressive build quality."
- Gold Award, HardwareHeaven
 •
Sound BlasterX H3
- Lightweight, Foldable Analog Gaming Headset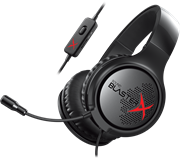 "The Creative Sound BlasterX H3 is a very well made gaming headset, Creative has done a fantastic job developing and engineering a masterpiece of a headset with high quality audio."
- The Tech Insider
 •
Sound BlasterX P5
- In-Ear Gaming Headset for Gaming on the Go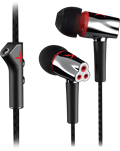 "The noise cancellation is on point, and the responsive bass and rich audio are both delivered as promised on the packaging. Using this set in Dota 2, I'm able to hone in on different sounds and multitask well."
- Editor's Choice Award, TweakTown
 •
Sound BlasterX Kratos S3
- Analog 2.1 Gaming Speakers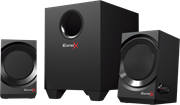 "The Sound BlasterX Kratos S3 2.1 speaker system is easy to set up, easy to use, and puts out big sound. If you need PC speakers, these speakers deserve your attention."
- Techaeris
The Creative Gaming Zone @ GAMEX Pavilion, IT Show 2017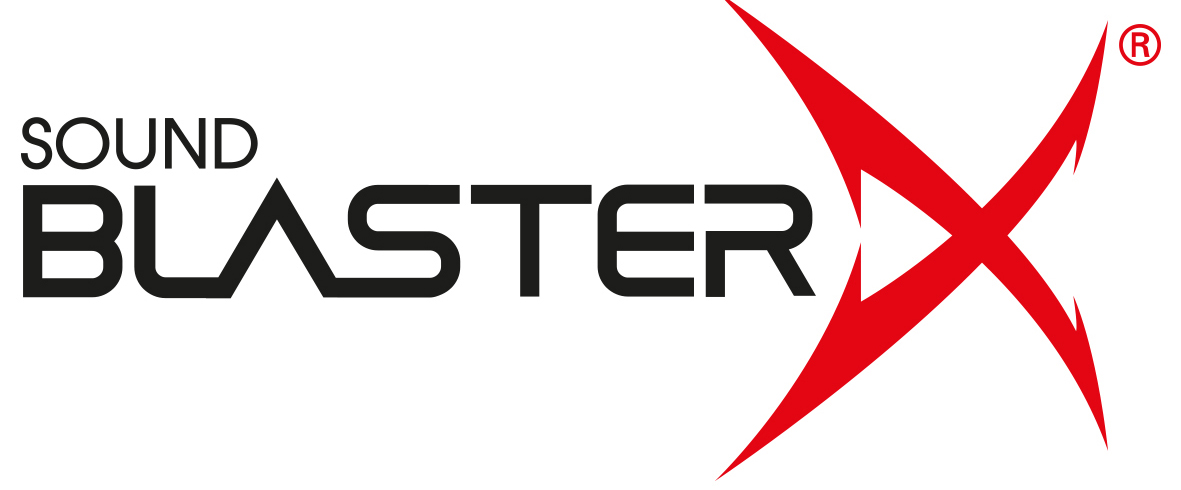 Ultimate gaming needs ultimate sound. Combatants can wield the lethal Sound BlasterX array of weapons at the Creative Gaming Zone. Gamers will also be able to participate in a Street Fighter V king-of-the-hill battle onstage and win attractive Sound BlasterX swag.
To deliver the final blow, Creative is unleashing the ultimate-ultimate audio for gaming at GAMEX. Gamers will experience not just powerful audio, but literally feel the chest-pounding bass, earth-shattering rumbles and bone-rattling explosions in games. For the first time, Creative is deploying the ultimate weapon of mass entertainment - X-Fi Sonic Carrier - into the gaming arena. The Sonic Carrier, a powerful home entertainment system with Dolby Atmos®, Creative SuperWide X-Fi™, 17 drivers in a 15.2 configuration and 2000W peak power will blow gamers away with the ultimate-ultimate immersive cinematic sound.
Take-No-Prisoners Weapons at Take-No-Prisoners Prices
Make no mistake; the cutting-edge Sound BlasterX Katana Under-Monitor Audio System, Vanguard K08 RGB Mechanical Keyboard, and Siege M04 Precision Gaming Mouse are going at take-no-prisoners prices. And quantities are limited.
The Creative Booth is located at Suntec Singapore, Level 6, Hall 602 Booth 6141, and the Creative Gaming Zone at GAMEX Pavilion Level 6, Hall 605.
To find out more about our amazing deals at IT Show 2017 and our full range of products, visit sg.creative.com or download the flyer at itshow.creative.com.
For more information about the X-Fi Sonic Carrier, go to www.soniccarrier.com.
About Creative
Creative is a worldwide leader in digital entertainment products. Famous for its Sound Blaster® sound cards and for launching the multimedia revolution, Creative is now driving digital entertainment with cutting-edge audio solutions which include premium wireless speakers, wireless headphones, and powerful audiophile-grade amplifiers and digital audio converters. Today, Creative re-invents the Sound Blaster, which has a user base of over 400 million, with its ground-breaking Sound Blaster Roar and Sound Blaster X7 that aim at the new mobile networked generation by bridging the worlds of the computer, smartphones, and tablets. Creative's proprietary technologies, innovative hardware, applications and services leverage the Internet, enabling consumers to experience high-quality digital entertainment - anytime, anywhere.
# # #
This announcement relates to products launched in Singapore. Availability is subject to change without notice and may differ elsewhere in the world according to local factors and requirements. Creative, the Creative logo, Sound Blaster and the BlasterX logo are trademarks or registered trademarks of Creative Technology Ltd in the United States and/or other countries. All rights reserved. All other trademarks are the property of their respective owners.
CONTACT INFORMATION
Creative Technology Ltd
Eugene Chong
(65) 6895 4190
yochong@ctl.creative.com